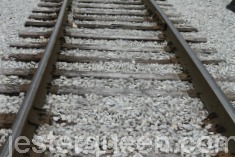 Back and forth the car swayed, and the couple in the sleeper argued on.
Ann said, "Amtrak never gets anyplace on time."
"For the fourth time, I'm sorry," said Karl.
"Sorry!" Ann's voice rose. "We're in the middle of Nebraska, and the wedding starts in an hour. This is the worst gift you could have given me." Karl didn't answer, and Ann didn't stop. "You're so cheap!"
"What do you mean, cheap?" he protested. "This cost us twice as much as plane tickets."
"And it's taking four days instead of four hours! What a waste of money." Ann pounded on the window. Gretchen is almost married. And I'm missing the whole thing because …"
"I said I was sorry!"
Ann wiped her eyes and blew her nose, then reached into her tissue packet only to find it empty. "I'm her matron of honor! You ruined my sister's wedding."
"I just thought we could do something special together. How was I supposed to know we would be running twenty hours behind schedule?"
"I should have been there yesterday morning. I should…" Ann broke off to answer her vibrating cell phone, glowering at her husband as he rummaged more tissues out of a suitcase. "How's everything going?" she asked the caller.
"Annie!" Gretchen's voice trilled. "It worked!"
"What worked?" Ann asked.
"Everybody's being so great about it!" Gretchen bubbled on. "When you called  yesterday, I got Mom on the horn. We moved everything. As long as you'll be here by six, it will all be fine."
Karl found the tissues and held them out, a lonely peace offering. Ann accepted and held onto Karl's hand. He clasped her fingers back, extending their shared hope.
"You postponed your wedding?"
"And at the eleventh hour, too!" Gretchen sounded positively thrilled.
"You're not married?"
"Not without you sis. I just couldn't." And then the elation transformed into something else and both sisters cried the absent miles into their phones.
_______________________________
For the IndieInk Writing Challenge this week, Bran macFeabhail challenged me with "You've been given a gift. You aren't supposed to question gifts…but maybe you should question this one. " and I challenged femmefauxpas with "…and green was the grass in my valley"
________________________________________________
This is also my entry for this week's Trifecta Writing Challenge, where the word of the week is "cheap".

Jessie Powell is the Jester Queen. She likes to tell you about her dog, her kids, her fiction, and her blog, but not necessarily in that order.