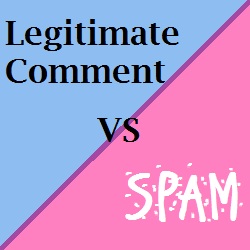 If you blog on WordPress (.com or .org) you almost certainly use Askimet to help manage your spam queue. When I changed over from the WordPress hosted .com account to the self hosted .org software, the amount of spam in that queue shot through the stratosphere. Seriously. On my .com account, I had maybe five or ten comments a day get caught in the Askimet strainer. Now? If I don't clear that thing every eight hours, it's into the triple digits.
But Askimet isn't perfect. It will very rarely (exactly once since I migrated a month ago) let spam sneak in. And more commonly, it will mistake legitimate comments FOR Spam. So I have to be on the ball to avoid losing people's remarks. And I have to be able to skim through five pages of probable spam quickly for those times when I'm not so on the ball. I've developed some tips and tricks to speed the process without losing any legitimate remarks, and I'm sharing them here with you today.
1)      What post was the comment on? Unless you recently reposted something old, comments on posts a few months or even weeks old can be considered spam.
I frequently ask, "Where did you come from and why do you give a shit just now? Why not care back when I posted?"
2)      What name does the commenter use? Some of my frequent spam fliers have monikers like Elusa, Andréia, Edmundo, Buna Amorim, mahjong solitaire gratuit, why cant I get pregnant, and http: //pwsfrap .org /.
I want to ask the one lady whether she has grammar issues, fertility problems, or a solution to the above involving singing monks. And yeah, I added spaces to that last username. There will be no users driven from my blog to there.
3)      Where does the username link back to?  Watch out for links that say eroticsextapedummies, budingnymphohotgirls, siearasapartments, and ojogosdomario (.com)
What kind of idiot do these people think I am?? Oh wait. Don't answer that.
4)      And finally, there's the content. Does your commenter refer to his manhood (or perhaps yours?) a little too frequently? Is the commenter so brief that nobody could possibly make any sense of the remark? (When something real gets stuck, it's often one of these. Try to say something unique to avoid getting lost in the flow, though that's not a guarantee of salvation.) Are there oobie-scoobies of links? Does the grammar look stilted?
Why yes, yes to all of these things and then more. 'hi you have great website here with much useful informations'. Mmmhmm. 'I just want to say i like it what you doing here, and i give good followbacks to all new friends yes?' Sure. 'I have been looking for these informations for so long.' Happy hunting. 'Your blog ranks low in Google Pages and we can fix you right up here'. Mmm, no, but I'd bet you'd like to fix YOURSELF up.
So, there you have it. A blogger's guide to quickly managing a spam filter. If you get lost in my flow, don't hesitate to drop me a line. I'm experimenting with various comment systems, trying to find something that doesn't spin my visitors off into the word press spiral of login death, but which still allows me to use comment luv of some variant thereon. Right now? We're stuck at word press.
What's some of your favorite spam?

Jessie Powell is the Jester Queen. She likes to tell you about her dog, her kids, her fiction, and her blog, but not necessarily in that order.