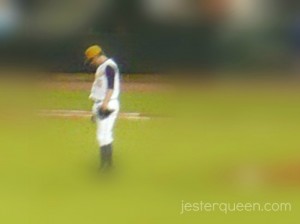 "Hot pretzel and a package of candy," says the woman in pink. She has a glazed look, like she's been standing in line for a thousand years.
"Six fifty."
She gives me a credit card, and I go for the pretzel. We're shorthanded, so I'm my own runner.
"Get me one," Brady calls from his register.
"The syrup's out in the diet cola," Kelly shouts.
Their voices blend together with the clanging, whirring, and popping that is a ballpark concession stand. The PTA gets funds, Minor League baseball gets good neighbor points, and I get a headache. I can't hear the score over the cacophony.… Read the rest