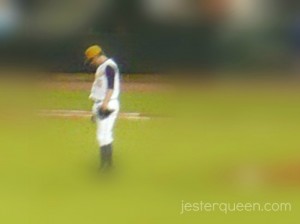 "Hot pretzel and a package of candy," says the woman in pink. She has a glazed look, like she's been standing in line for a thousand years.
"Six fifty."
She gives me a credit card, and I go for the pretzel. We're shorthanded, so I'm my own runner.
"Get me one," Brady calls from his register.
"The syrup's out in the diet cola," Kelly shouts.
Their voices blend together with the clanging, whirring, and popping that is a ballpark concession stand. The PTA gets funds, Minor League baseball gets good neighbor points, and I get a headache. I can't hear the score over the cacophony.
I'd really like to know how the guys are doing. My brother's on that team, after all. But all I know is we're in the 7th, and I'm not going anyplace except back to my register with the pretzel. "Cheese?" I ask Ms. Pink.
"Nah, but don't forget my candy."
Finally, the printer spits out a receipt for the woman to sign.  "What's the score?" I ask as I hand her a pen.
"We're winning three to nothing."
Another crash in the background means I barely hear her. Mandy shouts, "Ah crap, I just dumped magic soap everywhere!"
"It's hand sanitizer," scolds one of the adults, like the real problem is Mandy calling it by a preschool name.
"Whatever. It's all over the floor back here now. Watch your step."
I take the receipt from the woman and put it in my drawer. "Three to nothing?" I repeat.
She's walking away now, but she says, "Yeah, Claymore's working on a perfect game."
Suddenly, I tear off my apron and hoist the counter to let myself through. They yell after me, but I don't hear their words. I smack two insects off my arm, but I don't even feel the sting from the blood they've drawn. The visitors can't get so much as a hit, and that's my brother on the mound. That's my brother on the mound.
__________________________________________
This weekend at Trifextra, we have between 33 and 333 words to use the words cacophony, soap, and insects in order.  The timer's ticking if you want to come play!
The picture above is probably of Montgomery Biscuits pitcher Jim Paduch. I say probably because I'm not sure if I ever reset my little camera from Eastern Time when we moved to Montgomery from Lexington. The camera thinks the picture was taken at 8:43 on July 16, 2011. Meaning it was probably 7:43. Meaning it's probably the starting pitcher still on the mound. Or rather, stepping off the mound for a second. If not, though, it's either Frank De Los Santos or Zachary Quate.

Jessie Powell is the Jester Queen. She likes to tell you about her dog, her kids, her fiction, and her blog, but not necessarily in that order.