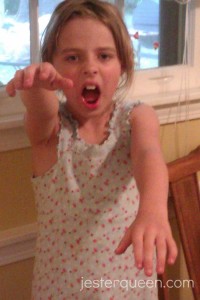 Short entries are supposed to be best, so I'll keep this one to the point. This is a great Caroline tale. And today is the right day to retell it, for sure.
Scott is Christian. I'm agnostic. When we lived in Lexington, we went to Scott's Presbyterian church and sent Caroline to preschool in a synagogue. Right across the hall from Caroline's room, the temple held its bar/bah mitzavah classes, and there was overlap between the beginning of big-kid class and little-kid-pickup time. The big kids discussed important religious questions at length.
Keep this in mind.
The nursery at Scott's church understood that although Caroline didn't have a formal autism diagnosis at that point, there were social delays that made it difficult to move her up to the appropriate preschool Sunday School class. But. She was four and a half, and I wanted to see if she could try.
So one week, I took her up to Sunday School. Immediately, I knew it was a doomed mission. Those kids could sit in a circle. Caroline needed to walk around the room.
Also, there was this:
The parent leading the class was using appropriate props to tell the story of Mary Magdalene at the tomb. With her wooden figures positioned, she asked the kids, "How do you think she felt, all alone, not realizing it was Jesus walking towards her."
This little boy said, without a hint of mischief, "I'd be scared he was going to turn me into a zombie, too!"
And instead of stopping to acknowledge and address the very sincere underlying concern, the teacher glossed it over, said "Resurrection is different from Zombie," and moved along. Of course, all anybody could think of after that was "Zombie Jesus"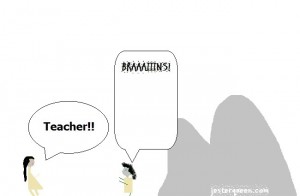 As I escaped with Caroline afterwards,  I wondered "What would that parent reply when my thoughtful echolaliac repeated something from the bar/bah mitzfah class? How would she answer 'Why do Christians call the Torah the OLD Testament?"
Oh no. Church Preschool was not ready for Caroline. It was back to the much loved nursery the next week. Sweet.
_____________________________________________________________
I'm hooking up with The Lightning and The Lightning Bug's Flicker of Inspiration "Short and Sweet". I'm not quite sure if this is the brand of short and sweet they were looking for, but the story's been aching to be told all day.

Jessie Powell is the Jester Queen. She likes to tell you about her dog, her kids, her fiction, and her blog, but not necessarily in that order.