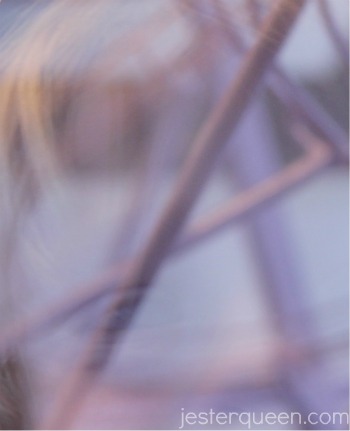 The murdered girl stared at her own reflection. As dead as she was, she still retained her most basic functions. She could see herself, smell the rank odor of her decay, hear memories that wept down from the fluorescent lights.
She heard the squeak of sneakers. "Can you change her?" her mother asked. Was that the smell, then? Just shit? Had she been upgraded from decomposing to merely falling out in clumps?
"Oh," said the nurse. "Yes, I'll get that right away." The murdered girl heard the soft-soled retreat as the nurse went for supplies so she could pretend to observe yet another formality reserved for the living.
"How are you doing?" her mother asked in her softest voice. But under that quiet, the girl could still hear her mother screaming. What has he done to you? He's murdered you, murdered you, baby!
Her mother kissed her forehead. "Can you squeeze my hand today?"
She wanted to seize great fistfuls of blanket like she had seized the air as she fell. She wanted to grab onto her mother's face and shout that she had dying to get on with and didn't have time for clumping waste and fingers that couldn't even manipulate the remote control to change the fucking Price Is Right off the television.
"Well, the doctor says to keep working on it. Do you want me to read?" And underneath that, the doctor whispering to her mother, "Be patient, it's early days." The doctor could afford to say that. His early days were her late days. None of these people seemed to understand that she was dead.
She blinked one time. Yes.
Her mother said, "Chapter three". The murdered girl barely heard the nurse's return. She descended into the rhythm of her mother's voice, following the tone more than the words. She rose up and sank down on hills of language that seemed to carry her outward, bearing her on to a world where even the dead could fly.
___________________________________________
Here is my Trifecta entry for this week.  This week's word is in the title. Observe.

Jessie Powell is the Jester Queen. She likes to tell you about her dog, her kids, her fiction, and her blog, but not necessarily in that order.