I'm reading  
To The Lighthouse
in a group led by Lisa Harvey of
Seeking Elevation.
So I've had Virginia Woolf on my mind. But also, we're cleaning house, and I mean
cleaning house
around here. And that's got another famous Woolf piece in my head just now.
Back in January, we took 13 bags of clothing out for donations as part of the quest to Find The Bedroom. Since then, we've thrown out or relocated three pieces of huge furniture, opening up the house  and making it begin to look like people really live here. One of the largest changes we've made is the transformation of our guest room. We've been keeping a huge double bed in there in case of guests for years now. But we average around two overnight guests a year. Now, those guests, are people we love and welcome, but seriously, we needed the space. Besides, we have a perfectly good hide-a-couch, plus an air mattress should our company desire actual comfort.
So last month, the bed went out, farewell, goodbye, adios, see ya around. We discovered that the Faith Hope rescue mission does accept mattresses, which was good, because I feared we would have to get rid of it in this bedbug crazy atmosphere, even though we took great care of it and kept it in our house for pity's sake. From there, we took an old cherry desk that's been languishing under a pile of crap in the room-known-as-the-office and moved it into the guest room.  (Scott had to take the doors off their hings to make this work.) Then we moved my chair.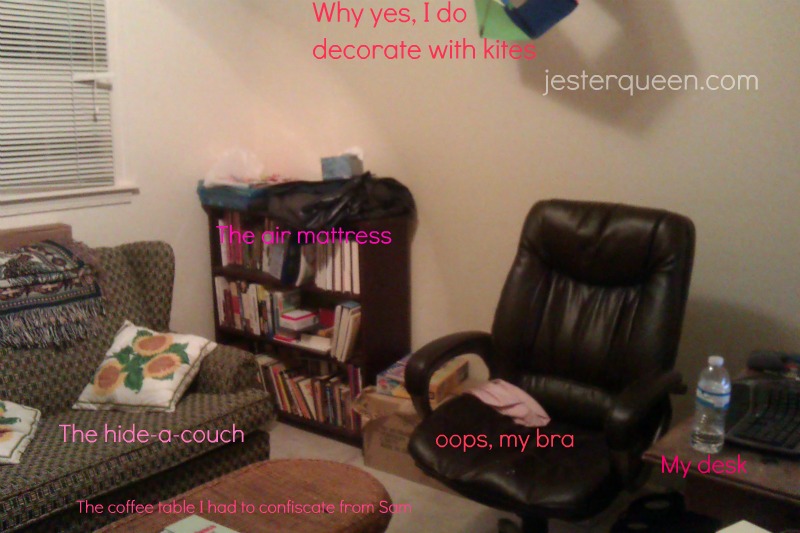 Yesterday, we made one more big effort. We adjusted the furniture so the pull out bed works and the other pieces don't look so tacky. There's stuff left to do (I need to clean out the closet you can't see behind me in the picture, and the air mattress sitting on top of the bookshelf is moving out in a tote soon). But when we were through, suddenly I had a room of my own. I had been whiny for most of the process, because it looked like I was getting a messy 5×5 square for awhile there. And then it wasn't messy. It was clean. It was nice. It was mine.
This is the first time in my life I have had a room of my own that I can call an office. We've maintained a home office, one that fully meets the tax code definition, for years. But it's been shared space, the place where I do my online teaching and the place where Scott does his online teaching.
And now that we have created my space for writing, I realize exactly what Woolf meant. I look back on my life, on growing up sharing a 10×20 hallway with my sister (long story) and trying to turn my half into an office. I look back on my first apartment, where the living room also served as my office and dining room. I look at Scott's and my first apartment and our rented home where he was the one with an office (and that's not bitterness speaking – he needed that office before he got a full time job and a real office of his own). I look at our shared office, where the online teaching still gets done.
And I realize that I've never known this kind of quietude. I've never known this joyful confinement. I've never had a place where I can separate my writing from the rest of my life, all of my life, even the parts that I get paid for and shut the door, and lock myself in, and only open it if I want to.
I can't even hear it if the kitchen timer goes off and the door is closed. So what if something burns. Who cares if I forget the wash. The kids have to knock because the handle, which isn't supposed to lock at all, has an ungainly habit of locking itself. I have to rattle and beat it just to get out, let alone to convince it to allow someone else in.  I can play music whenever I want and I won't be driving poor Scott batshit crazy.
This new space of mine is wonderful, and I have an awesome husband to thank for helping me make it happen. We aren't through cleaning yet. The shared office still needs much work. But as of now, I have my own room, my very own room, and it feels so good.

Jessie Powell is the Jester Queen. She likes to tell you about her dog, her kids, her fiction, and her blog, but not necessarily in that order.