Hello people of the internet! The awesome Carrie over at Views From Nature is on vacation this week, and as such, she has invited some of us to guest post in her stead. I'm totally thrilled to say that I'm kicking off her week.
Come check out my story "Aboveboard" over at Carrie's today, where I'm the first of the tourists: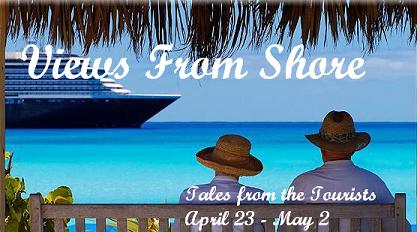 While you're there, you should also take a look at some of Carrie's wonderful stories, including her awesome ongoing series. Although I had been an occasional reader of her blog before I started doing Trifecta posts, I got addicted with her series about "The Glade". (And that's one of the series you won't find linked from her header.)
Hope Carrie is having a great week on vacation and not running into any active volcanoes. In her absence, you can expect to see coolness erupting on her blog. I believe I'm correctly naming all the other posters here. But I may be actually naming the guest posters along with some folks Carrie and I both love to read! Either way, a quick shoutout to:
SAM of From My Write Side
Cameron D. Garriepy
Kir of The Kir Corner
Lance whose Blog Can Beat Up Your Blog
And
Tara R. of The Thin Spiral Notebook.
Take a minute to visit my post on Carrie's blog and to check out these other great bloggers!

Jessie Powell is the Jester Queen. She likes to tell you about her dog, her kids, her fiction, and her blog, but not necessarily in that order.