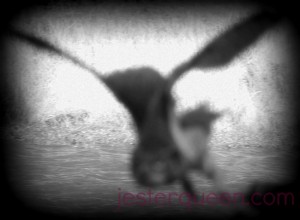 Engine thunder preceded the motorcycles. One, two, three, the machines curved into the lot.  The first rider, a big man in a leather coat, unholstered a pistol as he jammed down his kickstand. He took a small glass vial out of his breast pocket.
"I warned him."
"True." The second rider took the vial, sniffed it, then sniffed the air.  "Go up the back. Watch out for Flori."
Upstairs, a young woman not much larger than a child stepped out of a door.  Flori said, "Cal's down here." When none of the riders moved, she said to the group's lone woman, "Leave the men to mind the hall. They'll catch him if I'm lying. You look at me like I'm the one as stole your drug."
The woman rider walked to the open door and looked in. "She's speaks truth," she called to the others.
Cal lay on a bed in the small room, his body trapped between human and feline, one giant hand sprouting from his warped body.  "Do you have antidote?" Flori asked. "Or will you murder a cat?"
"We don't kill the helpless." The woman thumped down a pack and removed a syringe. At her jab, the cat-man yowled, then popped, and Cal lay on the bed fully clothed, and screaming. Flori threw herself across him, but the first rider hauled her up, mindless of how she fumbled with Cal's jacket as she was dragged off her lover.
"Shut up and speak your last."
"But I am helpless," Cal protested.
The rider forced his pistol into Cal's hand by way of answer, and the woman rider drew another gun out of her pack. Then Flori's body popped. Before the bikers could react to the enraged gryphon she had become, she flew up, knocking out half the ceiling with one wing.
She seized Cal, who snickered and twitched in her talons. "They should know I'm never helpless with you," he sang as they flew, the animal easily dodging the humans' gunfire.
__________________________
They're playing three truths and a lie over at Trifecta this weekend. But I'm a terrible liar and a worse guesser, so I just wrote a story connected to this one in which everyone but Cal is telling the truth. If she continues in this direction, Flori's little life is not liable to end well. But she refuses to behave.
For my part, my obsession with honesty stems as much from the fact that I can only rarely pull off a lie with any degree of plausibility as it does from personal integrity.
Anyway, I'm gullible, and nearly everyone I know lies better than I do. Scott LOVES to torment me by making some impossible statement in conjunction with say a news article and waiting for me to say "Really… now waaaiit." It has never backfired on him, and I have only had revenge once that I can think of.

Jessie Powell is the Jester Queen. She likes to tell you about her dog, her kids, her fiction, and her blog, but not necessarily in that order.