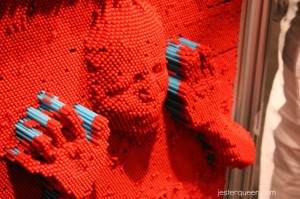 "You are quite the enigma." Jerilee's new foster mother studied the smiling girl. This was the child's third full day in the home. Mama Fernandez moved clean socks from a red to a yellow basket as she tucked pairs together. "It's certainly pleasant to be in your company," she continued. "Does the racket bother you here?"
Jerilee went on smiling and began kicking her feet against the bed. Mama Fernandez finished another pair of socks."I talked to your teacher again today.  She said you got a 100 on the spelling test all three times you turned it in. But she wants you to remember you aren't responsible for your classmates' work."
Possibly, Jerilee bobbed her head. Possibly, she just smiled more. "Anyway," said Mama Fernandez, "I wondered if I could get your help with some of this folding?" With one foot, she nudged a blue basket of shirts across the floor.
Immediately, Jerilee scrambled backwards on the bed, stretched her legs long, reached out her hands until they wrapped under the soles of her feet, then buried her nose in between her knees.
"That's very good dear!" Said Mama Fernandez. "But I meant I'd like you to help fold laundry, not yourself."
Jerilee picked up her head and tilted it without letting go of her feet.
"Here. Can I have your hand?" Mama Fernandez put an unmatched sock back in the red basket.
Jerilee extended her left arm, still without changing her pose. Mama Fernandez put the blue basket on the bed, then gently sat the girl up and guided both of her hands. She moved Jerilee through the motions, then stepped back and smiled as the folding continued without her.
Just a few hours later, though, Mama Fernandez was on the phone to Jerilee's social worker. "Maggie?" she said, "I know you told me Jerilee likes to do chores, but you forgot to tell me how to make her stop. We're running out of shirts!"
____________________________________________
This is my submission for this week's Trifecta competition, where the word of the week is enigma.
Jerilee is a composite of my daughter and several of her friends (on and off the spectrum), with the added quality that Jerilee is completely nonverbal and being shuttled around in foster care.  The story grew out of Caroline's having to give blood a few weeks ago. The phlebotomist asked for Caroline's arm, and pointed to the one she wanted.
Caroline gave her the other arm. I said, "You have to be really specific."
The phlebotomist handed Caroline a red ball and said, "Now pump that fist for me." Caroline gave her this quizzical look, because she knows 'fist bump' but not 'fist pump' and wasn't sure if they were the same. So the phlebotomist demonstrated the motion. Caroline's eyes lit up, and she pumped her opposite fist. After all, the fist the phlebotomist pumped didn't have a ball in it.
The lady was actually really patient and she totally got everything on the first try, but Caroline's efforts to do what was asked of her were running right up against her complete literal mindedness.

Jessie Powell is the Jester Queen. She likes to tell you about her dog, her kids, her fiction, and her blog, but not necessarily in that order.