It's a day of guest posts and fantastic followups for me today.
First, I have a hilarious guest post up on Lynn's blog, All Fooked Up today. I actually first came to All Fooked Up because another blogger did a guest post. When Missy, The Literal Mom did this post about her favorite word, I followed along to discover other bloggers who adore F-bombs as much as I do. I subscribed immediately, and I haven't been disappointed.
Lynn runs a regular guest post series called Go Ahead, Amuse Me where she features funnies from other bloggers. She welcomes guest posts, too, you just have to be FUNNY. (You don't even have to have a blog.) Check out the site, check out my hilarious guest post (in which I explain how to blog and mock my own math deficiencies, then FORGET I HAVE DONE SO in the comments), and fall in love with a fucking funny blogger.
Today is also the second day for the Dumpster Diving Story Circle over at Cameron D. Garriepy's blog. I wrote the first installment last week, and this week, the story has been picked up by Eric Storch over at I Can't Brain Today, I Have the Dumb.  The fact that I wrote the first part means nothing. I could never have imagined the terrifying twist Eric would bring to things with today's installment!!
And, since this entire post is about linking you to other blogs, here's a gratuitous picture of my kids dressed up for their dance recital dress rehearsal. More about THAT tomorrow.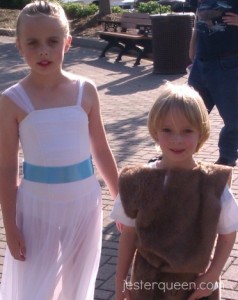 Jessie Powell is the Jester Queen. She likes to tell you about her dog, her kids, her fiction, and her blog, but not necessarily in that order.