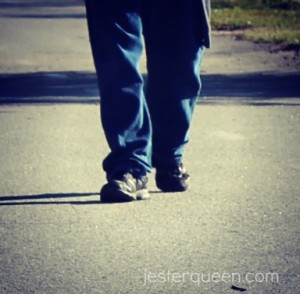 Trouble came easy in those days. Cassandra remembered sitting on Tyree's stoop when Stoney Hamilton sloshed down Scoville swearing and firing a handgun. "Goddamn, cunt, bitch, asshole, hoebag, fuck!" And at 'fuck', he pointed his gun straight in the air and staggered forward a few more steps.
"Listen at him."  Tyree rose to watch. Cassandra joined him.
Cassandra said, "That's not going to stand."
Stoney swiveled until he found them. "Goddamn, cunt, bitch…"
"Yeah, I know, hoebag and all that dumb shit. Put down that gun before you hurt somebody." As Cassandra resumed her seat, Stoney aimed at her and pulled the trigger. The roaring report set him off balance.
"Jesus Christ, what you doing?" Tyree screamed.
Stoney shot at him too, then stumbled around the corner to 59th.
"You OK?"
Cassandra ran her hand along her scalp. It came away red. "He grazed me!" she said.
Tyree looked behind her. Both bullets had passed through the siding and into the apartment. "I think you  need stitches."
"Naw. Scalp wounds are just messy is all." A double trickle of blood seeped down her forehead, just above her left eye. She wiped it away and looked out to the street. In the place where Stoney had been, she suddenly saw herself.  Her scalp burned, the blood was in her eye, and she looked down her years to a future defined by this one street, this one scar.
She got up off of Tyree's stoop and headed out the gate. "Where you going?" Tyree shouted.
"It's time for me to be somebody else."
"Wait! " Let me get you a towel!"
She did not wait. She turned onto Scoville and walked towards Shiloh Baptist, wiping blood from her face.  She looked back twice on her way up the street, half hoping to see Tyree behind her. But he did not come. Her feet propelled her away from him, away from the ghost of her future, away from the crossroads of Scoville and 59th.
_______________________________________________________
This week at Trifecta, we are being asked to use the 3rd definition of the word 'trouble'. Come play with us if you have a moment.

Jessie Powell is the Jester Queen. She likes to tell you about her dog, her kids, her fiction, and her blog, but not necessarily in that order.