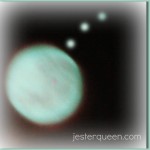 Look across the night and hear me.
In death, there is no silence.
There is the weeping, wailing, mourning
Of those you leave behind.
Your silence is my darkness.
Come back sister bright.
________________________
I'm not much of a poet. I have a healthy respect for poets' fluidity with metaphor, and I incorporate elements of poetry in my prose. But I am primarily a prose writer. Most of my poetry is deliberately exaggerated, bad on purpose to be silly.  I rarely, rarely, rarely write the serious stuff. And when I do, it sticks with me.  I wrote this when I was seventeen, the first time my sister tried to kill herself. I hesitate to include it here, because its story is no longer true. And I'm not sure how true it ever was. My sister was never anybody's joyful beacon. Still, when she was twelve, I would have missed her. Her death would have been a weight, and not a lightening. And it is, by coincidence, 33 words long. Which makes it perfect for this weekend's Trifextra.

Jessie Powell is the Jester Queen. She likes to tell you about her dog, her kids, her fiction, and her blog, but not necessarily in that order.