Happy day for me, I just won a blog award!
Marie over at My Cyber House Rules
passed to me the One Lovely Blog Award. I have won three blog awards now (one of those twice!) I need to compose my 'awards' section. I just feel so vain doing that!!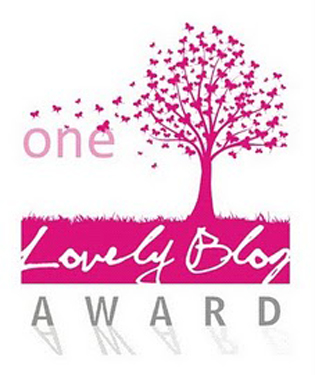 In the meantime, this award comes with fun rules.
First you must thank the giver: That one is easy. Thank you Marie. I owe you more than thanks for this, too, as you have sincerely saved me from the blogging dilemma of the century. But I'll unveil that surprise on its own day. The award just made my day so awesome.
Second I need to share seven possibly unknown things about myself: This one is slightly harder, because I was born to embody the term overshare and there isn't much unknown about me. Here goes.
I refused to wear a veil at my wedding because of the sexist implications. (Not unexpected, but not necessarily known.)
In a similar vein, I hated the imagery of being given away for my wedding, so I instead walked with my grandfather down the aisle. And it was the only time during the wedding that I nearly cried, because it was genuinely touching.
I do not accept the conventional wisdom that rejects swear words. I think that rejection is simply a rejection of the emotions behind the swears. And I say 'fuck that'. (You'd probably figured that out about me)
My son's name is NOT Sam. He's actually Scott Jr. But we call him for his initials so that he has his own unique identity and he can choose, as an adult, whether to be a Scott or a Sam.
I can outrun a bolting fifty pound dog. I didn't know that one until Sam accidentally let Chewie out the front door tonight.
My favorite artist is René Magritte.  My favorite picture is Time Transfixed, where the locomotive bursts out of the empty fireplace.
My eyes were blue until I was five, when they suddenly went hazel.
Third I need to share this. I'm supposed to share with 15 other lucky bloggers. I'm going to agree with Marie that "Fifteen is a lot, and I believe the huge amount simply reduces the value of those who get an award".  So I'll reserve most of my tags for another day, and I'll try to tag folks I've never tagged before. For today, let me introduce you to
I Spy With My Idiosyncratic Eye: Because she has an ongoing series right now about these baby birds that literally fell into her flat through the plaster. The pictures are delightful, the stories are hilarious, and seriously, for almost a full week, she and her husband found a bird a day!!
649.133 Girls, the Care and Maintenance of: Janel is an academic librarian who assigned her blog a dewey decimal name. I'm also a librarian in one incarnation, and I delight in this craziness. This is one of the first blogs I ever followed, and I L-O-V-E it. Plus, she was just syndicated on BlogHer. SWEET.
The Lightning and The Lightning Bug: This was the first writing meme I ever participated in, and I still love the site.

Jessie Powell is the Jester Queen. She likes to tell you about her dog, her kids, her fiction, and her blog, but not necessarily in that order.