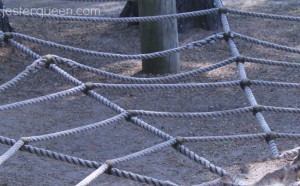 "Who's the new lady friend?" Russ Simon's officemate Joel nodded at the redhead who had just walked over to the Hors d'oeuvre table.
"That's my sister Karen."
"Ohhh."  Russ waited out Joel's pregnant pause. Finally,  Joel said, "She seeing anybody?"
"Married." Russ wanted to punch the people who had asked that question, all four of them so far. He hated office parties. And he hadn't expected the single men to circle his sister like a bunch of goddamned sharks. In fact, Joel's red nose suggested he had been partaking a little too heavily of the cash bar.
Karen came back with two crackers coated in something pink that looked suspiciously fishy.  She offered one to Russ, who declined.
"Hey, Russ, glad you could join us!" The office administrator's peppermint squeak preceded her arrival next to Joel.  "Who's… OH! This is your sister, isn't it?"
Russ nodded. "Maggie, meet Karen. Karen, this is…"
Maggie cut him off. "I recognize you from your wedding picture!" The woman spoke in exclamation points and question marks, every sentence ending in a register at the outer range of Russ's hearing.
Karen crinkled her forehead, "I have to ask," she said. "Where have you seen my wedding picture?"
"Russ has it up in his cube."
"I'm touched," said Karen. She leaned over and kissed Russ's suddenly hot cheek.
Maggie chirped on. "Karen, you and your wife have the cutest little girls! I would just die for freckles like those."
Beside Russ, Joel blew out a breath. He muttered,  "Damn. She doesn't look a thing like the dyke on your wall."
Russ turned slowly to face Joel. "What did you say?"
"It's true. She's got real long hair now, and…"
Russ punched Joel, then watched the blood blossom under his colleague's nostrils. He wiped his knuckles on Joel's shirt as Joel brought his hands up to his face. "You hit me!"
Russ shook his head. "I knew I should have never come to this damned party."
__________________________________________________________________
There's a NEW word at Trifecta this week. And it's somewhere in that story up there 😉

Jessie Powell is the Jester Queen. She likes to tell you about her dog, her kids, her fiction, and her blog, but not necessarily in that order.