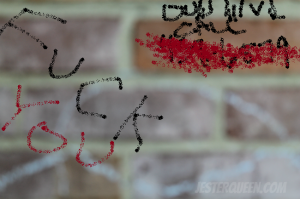 Brenda Cowden stepped out of the club's back door and took a long draw.  She tried to stop her legs from shaking. When they wouldn't, she finally sat in the alley beside two days of garbage and a leaky dumpster.  The cigarette  slipped from her fingers to smolder in a pile of refuse.
"Put that thing out." Her roommate Annie left the club as well and crushed the smoke under her heel. "What went wrong in there?"
"I got fired."
"Because you've got limits on lap dances?"
"No. Rob says I'm hiding tips."
"Oh." Annie screwed up her lips. "Well, let's go down the street and put in at Shimmy-Shebang."
"He didn't fire you, Annie."
"We're a team."
"Listen, when he puts down the word that I keep money, there's no club gonna hire me."
"He's not…"
"He is."
Annie leaned against the wall, then sank down beside Brenda. She said, "Ow."
"Yeah," Brenda said, "Ow." But she patted Annie's arm where the brick had scraped it.
Annie said, "I got another idea."
And Brenda said, "Sheena Green."
"Yeah. Sheena Greena."
"It'd be a hell of a pay cut. Think she'd hire us?"
Annie pushed up to her feet. "Think you can handle teaching preppy college girls how to pole dance?"
"I guess I'll learn. If she'll hire us."
"Come on. The busses are still running. I don't want to walk home." Annie held out her hand.
Brenda used Annie's arm for leverage and dusted grit and other debris from her backside. She hooked a finger inside her waistband and produced four bills. "Anyway, here's your part of the take."
"That fat bald guy? He did not give you $200!"
"I might have kissed Rob before I left."
"What?"
"Long, and sweet, with lots of hands. And he might have had some hidden cash of his own."
"Damn," said Annie, "Sheena Greena better watch her till with you on staff." She took the money.
"Us," said Brenda. "With us on staff."
_____________________________________
And this is what happens in the back alley with Trifecta.
On the Draw is a 7 card poker game that encourages risk taking. Also, there's quick on the draw and slow on the draw.

Jessie Powell is the Jester Queen. She likes to tell you about her dog, her kids, her fiction, and her blog, but not necessarily in that order.