I've been scheduling my posts for the last week or so. If it works as well as it has been, I'm going to keep scheduling about half of them. I'll still do plenty live, but if I can keep ahead of the flow, it will help when life (or grading) become crazy and I have to go to earth.
For example.
I've been on vacation since last Thursday, so I scheduled all my posts a week out. (Poor Roxanne at The Good Luck Duck noticed my prescheduled cow post on Facebook when I screwed up my scheduling function. And the accidental early publication attests to the fact that I'm telling the truth to say I totally scheduled that before Trifecta gave us a cow in the road prompt.)
This trip is part vacation, part family reunion, part memorial service. Scott's grandmother died back in April at the age of 97. She lived in Vermont, as do Scott's aunts and one of his cousins (and that cousin's family). Another cousin and family live in Massachusetts.  Scott and his sisters are scattered all over the country, and Scott's Mom is in Cincinnati. Rather than have everyone-who-could-break-away rush to a funeral back in April, Grandma Irwin's three daughters (Scott's Mom and her sisters) decided to hold a memorial service in June, when we could all be present.
So last week, we took the dog to the kennel, drove to Atlanta, and caught a plane to Boston, and from there we drove to Vermont. Here are pictures of the kids in the airport and on the plane.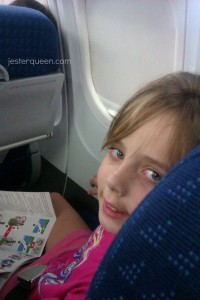 And here's what I didn't photograph. We got to drive under Boston! Back when they ripped up the city to build a tunnel underneath, I thought it was so damned cool. And I also thought I would never ever get to go in it. I mean, when it first opened, it cost I think $15 to use.  And plus, I go to Boston like once every four years maybe. So when we turned into the Ted Williams Tunnel after picking up our rental car, and Scott casually told Sam, "This is one of the longest tunnels in the world," I was as cooled out as the kids.I kept asking, "Are we really driving under Boston, like right under the city right now?" And we were.  For like fifteen minutes in rush hour traffic, we drove under Boston. And that was fifteen minutes that would have been an hour before the tunnel was built. It meant we could arrive at five and plan to meet Scott's cousin who lives just south of Boston at a restaurant just north of the city at six.
Oh yeah! We got to see Mike and Michelle and Devon and the other Sam again. We went to a restaurant called Not Your Average Joe's. Great food. Even better atmosphere. The staff tolerated it as the Sams cavorted  threw i-phones, and built the Tower of Silverware. Oh, and bit people. And no, it wasn't just my Sam engaged in those practices. He had an awesome sidekick. Well, except for the biting. That's like a personal thing.
Then we went next door for ice cream and visited until the turkeys turned into pumpkins outright and we had to get them back to their carriages. Then it was up to New Hampshire and our hotel. The first day was, in spite of the stress of travelling with children (and our children in particular) an unqualified success.

Jessie Powell is the Jester Queen. She likes to tell you about her dog, her kids, her fiction, and her blog, but not necessarily in that order.