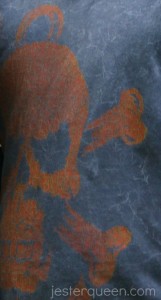 At the eighth grade dance, Patty Ann Lawson kicked Tricia Smiley in the shin. Tricia caught Patty's vest in her fist. "Anthony Gray's bombed or he wouldn't have tried kissing me." She held Patty at arm's length. "I try not to punch deserving assholes in public."
"Is something the matter?" Mrs. Haverty descended.
"We're dancing." Tricia suddenly pulled the much smaller Patty in close.
Patty seized Tricia's arms. "Dancing!" she echoed, and tried a couple of steps to Katy Perry's "Wide Awake".
" I'd suggest you dance a little less roughly. I could year you 'singing along' over there."
"Yes ma'am."
The chaperone left, and the girls jumped apart. Patty dusted her vest where Tricia had been clutching it. "We broke up."
"Then why are you coming after me? Seems like you already did yourself a favor." Katy Perry changed to Justin Bieber. "God. I'm going to the bathroom. I can't stand the shit they play at these things." Tricia stalked away.
"Wait up."
"What the hell?"
" I don't want you to think I'm following you when I go to the same place for the same reason."
In the bathroom, Tricia climbed up on a sink and forced open a window. She lit a cigarette and blew smoke out into the night.
"That's so gross."
"I didn't ask for your opinion."
Patty swept Tricia's pack off the counter and into the trash. She plucked the freshly lit butt out of Tricia's fingers and rammed it down the uncovered sink drain all in a piece.
She hissed, "Wash your hands," as Mrs. Haverty appeared in the doorway.
When the teacher left, Tricia said, "Thanks. I think." She dug her smokes out of the garbage.
Patty shrugged. "I guess I figured out I owed you a favor."
"Tricia said, "No you don't. You don't owe me anything." But she held the door for Patty on the way back to the gym, and they sat together on the bleachers, mocking Justin Bieber and Anthony Gray.
_______________________________________________________________________________________________________________
The final Trifecta week 33 challenge asked us to respond to Smashing Pumpkins "Thirty-Three". It's a dark song that sounds to me like it's about a guy whose marriage proposal has just been rejected, or maybe his girlfriend just killed herself. Anyway, because I never respond to a musical prompt the way I expect, I wound up at a high school dance with the heavy footfalls and that sense of imminent tragedy.  (Funny aside. When I was a kid, the words "tragedy" and "strategy" threw me. I always said "Stragedy" and "Trategy".) Smashing Pumpkins are forever associated, for me, with being a pariah. Mellon Collie was released when I was 19. By then, I was 3/4 of the way to finishing my BA, but I was only four years into expunging high school from my system. My sister owned Siamese Dream, and I'm pretty sure Dad owned Melon Collie and the Infinite Sadness. None of this is very useful, but it may give you a sense of the frame of mind the song put me in.

Jessie Powell is the Jester Queen. She likes to tell you about her dog, her kids, her fiction, and her blog, but not necessarily in that order.