This week, Trifecta celebrates its 33rd weekly challenge. It's actually three challenges, and it ends at 8AM tomorrow. I've been travelling, so posting these has had to wait. That means you'll be hearing from me three times today (and then I'll be quiet on Thursday). The first challenge is to respond to the following quotation
"What I tell you three times is true." — Lewis Carroll.
_______________________________________________________________________________________________________________
Thrice Told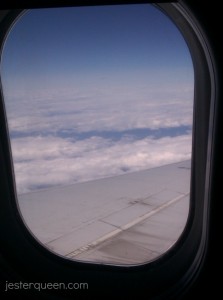 A young mother wore her baby through the airport and pulled two suitcases behind. She was alone.  "My husband died," she said to the woman beside her in the boarding area.
Her husband quickly joined her then. "Don't say that."
They boarded the plane, and the flight attendant flipped the suitcases up overhead. "Do you need any of this to go under the seat?"
The mother adjusted her wrap to buckle her seat belt "No. Thank you for the help with the bags. My husband died."
Her husband smiled and shook his head. He sat beside his wife. He brushed her ear with his lips and whispered, "Shhh."
The baby fussed after takeoff, and the mother handed it her cell phone cover. While the baby twisted and bit the rubbery pink plastic, its mother leaned back and closed her eyes. She wept.
A woman asked, "What's wrong?"
"My husband…"
"No," said the husband. "Please stop saying that." He touched his wife's face with his fingertips. "Please don't say it ever again."
"… died"
His body broke into a thousand particles and scattered through the cabin. The passengers gaped at the spray of light that flooded down the aisle and raced from person to person, like a blindingly bright bird looking for escape. Finally, the pieces gathered and floated towards a window. They crossed through and out, vanishing into the clouds and sun.
The wife patted the warm spot in her husband's now empty seat. She wiped her eyes with a napkin and settled the baby once more on her chest. Her face seemed more haggard now, more tired, and more wrinkled.  But her eyes were only a little red. The cart came and she took crackers. Her body seemed to grow as she ate them, to swell and fill the place formerly occupied by her spouse. It was as if he had been dead for a long time, and she had, in the rising plane, finally managed to let him go.

Jessie Powell is the Jester Queen. She likes to tell you about her dog, her kids, her fiction, and her blog, but not necessarily in that order.