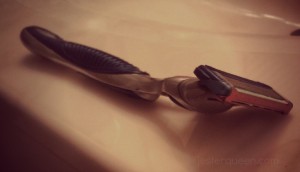 Diana shouted, "You're a goddamned hand mucker." But she took the razor Trent handed through the shower curtain.
He said, "Fair's fair. You lost."
She snarled, "You cheated."
He didn't answer.
She hit the pits first. They took ages, and she had to rinse the blade between strokes. Then she moved on to her legs.
After the first one she yelled, "I need a replacement."
"You don't have to shout." He pushed it through the curtain.
She attacked the second leg with a little too much vigor and got a red running slice for her trouble. After that, she demanded a third razor. "God almighty don't tiny cuts bleed a lot in water?"
She stood in the shower, letting the water thunder down her back.  Trent offered, "I could climb in and do it for you."
"Fuck you."
Diana hiked her left leg up into the soap dish and propped her ass against the wall. She started on the inner thigh, working across until she reached the middle. Then she took the left leg down and propped her right leg on the lip of the tub to attack the jungle from the other side. When she was done, the only hair left was on top of her head. She looked at the drain and said, "I can see why some people wax."
When she turned off the water , celebratory explosions carried in from outside.
"Happy New Year," said Trent.
Diana stepped out of the shower. Trent stood naked against the door with his arms splayed to either side of the frame. A rubber band affixed the ace and king of hearts to his left wrist. In his right hand, he held a can of shaving cream.
"You did cheat." More bombs popped in the distance. In the bathroom, Diana said, "Now I'll show you some goddamned fireworks."
"Yes, I did." And Trent reached up to the shelf beside the sink and handed her a fourth razor. "And I hope you will."
__________________________________________
The folks running the flash fiction month challenge somehow neglected to give us a specific prompt today.  That's okay. Trifecta gave us a great one: Fireworks. And in case you're wondering about my personal position on the topic of ladyscaping, I think Amanda Fucking Palmer has the right attitude. (Yes, gasp, I'm embedding a video.)

Jessie Powell is the Jester Queen. She likes to tell you about her dog, her kids, her fiction, and her blog, but not necessarily in that order.