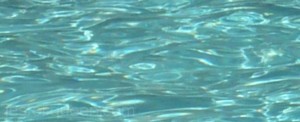 Anna said, "I'm sorry, Mom." She looked out the kitchen window towards the traitorous pool, where she would not be swimming today, after all.
"I just wish you'd told me sooner." Kaya drank her herbal tea slowly. She pushed a second cup towards Anna, who didn't touch it.
Then Anna got up. She meant to leave, but instead, she grabbed her swim cover up off the back of her mother's chair. She wasn't cold, but she felt naked. The bikini had been ill advised.
Kaya set down her mug and rubbed her own temples. "There would have been more we could have done about it then."
"You would have let me…?"
"Not my call. And not your father's either."
Anna rubbed her abdomen and counted off days on the calendar on the wall behind Kaya.
Her mother said, "Sweetie, the world won't end in three days when he gets home."
"It ended when you walked in the door."
"I apologize for my fever."
Anna looked down at the perfect little basketball that rode in front of her everywhere she went. She wished she looked more like her mother, whose body had turned lumpy and nondescript with pregnancy. She wished she had still been wearing her blousy pajama shirt when Kaya came back from work an hour after she left. She wished school was still in session and she was sitting in Algebra.
"Do we have to tell Daddy?"
Kaya reached across the table and captured one of Anna's hands before her daughter could pull it out of the way. "Of course we do. You wouldn't have been able to hide it much longer anyway. You need to see an OB-Gyn. I don't suppose you've had any prenatal care at all?"
Anna shook her head.
"Come on sweetheart. We'll get through this together."
Anna snatched back her hand and stormed away from the table. She went out beside the pool to bake in the sun. She had never felt so alone in her life.
___________________
And this week's challenge for Trifextra is "The world will end in three days". My response? "No it won't."

Jessie Powell is the Jester Queen. She likes to tell you about her dog, her kids, her fiction, and her blog, but not necessarily in that order.