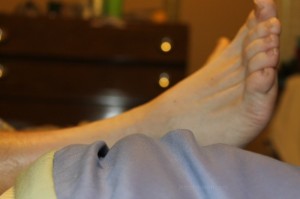 Nikki asked, "Did you smell Uncle Walt's room?"
"Horrible." I took another bite of cereal.
She turned to our mother. "I think he died last night."
"Nichole Ann, that's rude."
"I'm serious Mom!" Nikki balled up her fists. You don't have to walk past him every morning. Why did you even ask him to come?"
"Walter's only been here three days, and he'll be up soon. Show some respect."
"Respect. Hah. He's dead." Nikki grabbed a bowl and sat beside me.
Uncle Walt always stank. He called himself a 'bath optional' kind of guy. My first memory of him is throwing up from the stench when he picked me up. Yesterday, he switched from some cartoon marathon, to the game console, to the DVD player all day. Everyone but Mom got tired of the odor and constant shifts and left.
Today, Mom had to work, and Nikki and I were supposed to entertain the old stinker. Nikki looked close to tears. "I'll go check," I whispered.
"Callie put your bowl in the sink!" Mom snapped as soon as I stood up.
"I'll be right back."
I darted out of the kitchen. Walt's smell met me in the stairwell, and I nudged open the guestroom door. Walt lay on his back, the blankets all kicked to one side. A brown smear started at one side of the mattress and trailed over to his pajama bottoms. He shit the bed and died!
I drew a deep breath and screamed. But that infested my lungs with toxic air, and my freshly eaten breakfast rose in my gorge, gagging off my voice. I bolted from the room, still trying to shout. I heard Mom's feet on the stairs as I reeled into the bathroom. As I threw myself down in front of the toilet, I realized my first memory of Walt was going to be the same as my last one. I would be an old woman, and I would have his dead stink in my nostrils.
____________________
This weekend, Trifextra claims houseguests stink after three days. What say you?

Jessie Powell is the Jester Queen. She likes to tell you about her dog, her kids, her fiction, and her blog, but not necessarily in that order.