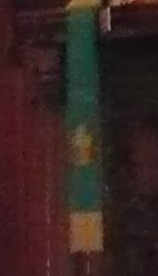 "You could do the job." Charles had biceps to back up his orders.
"You could go to hell." But Charles' arms were twigs in comparison to David's.
"So I've got to finish it?" Charles was already stripping out of his jacket.
"This job's gonna do itself."
"We gotta be sure."
"He's already dead."
"Why you gotta be such a rebel?"
At the bottom of the trench, their quarry stopped crawling and drank shallow breaths. If either of the goons could have seen in the dark, they would have watched him cross himself and so known his heart was still beating.
_______________________________
Of course, I'm always a rebel. But this week, Velvet Verbosity is, too, and I'm scheduling this so I can actually get myself linked up before the linky closes. (Kinda screwed that one up last week. Doh! This scheduling ahead messes with my wee brain.)

Jessie Powell is the Jester Queen. She likes to tell you about her dog, her kids, her fiction, and her blog, but not necessarily in that order.