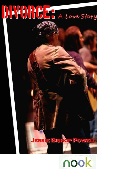 The road manager was puking in the public bathroom.
She had been backstage, keeping an eye on things, watching out for security hassles. And then she urgently needed air that didn't taste stale.
Those are (almost word for word) the first 33 words of my novel Divorce: A Love Story. And if you want to read the other 73,000 or so of them,  you can always buy it in the links in my sidebar. (It's an e-book. It's $3, and you can read it on your PC. Kindle and Nook both have features that allow you to enjoy e-books without an e-reader.) This shameless pandering has been brought to you by those crazy people over at Trifecta, who asked for the first 33 words of our novels.

Jessie Powell is the Jester Queen. She likes to tell you about her dog, her kids, her fiction, and her blog, but not necessarily in that order.