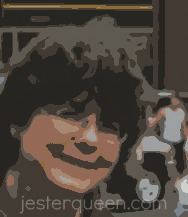 Sometimes, I dream in normal. I dress myself in jeans and a feminine cut shirt above my trendy socks. Nobody looks my way. When I take my kids to school, I smile to the teachers in the carpool line. (And the children, of course, go to public school, where they get average grades.)  Nothing makes me cry. No strange impulses bubble up to subsume my intentions. When I mold myself of normal, my eyes know just where to linger and for how long. My gaze is never out of place. I go to the movies and I don't twitch with the need to shout at the screen. Nothing makes me yell. My voice is perfectly modulated, even in anger. My words are never thumbtacks.
But normal, whatever its range, doesn't extend to my waking life. I was born slantwise to the world, and I can't step in time no matter who calls the tune. So instead I pretend like I meant it this way. I act like those combustions that just erupted from my mouth amount to ideas, and I go forward as if to act on them. And then I do act. I pretend to enjoy being unlike.
I don't hate it. When I curse and rail, which is often, it is not against the things that make me. It is, rather, against the people who want to unmake me. It is against the candy-apple world that fears biting into us worms. But when I dream, when it isn't the nightmares consuming me again, it is of an unremarkable life free from extraordinary needs. I want to let someone else be different for awhile.
Still, I know that when I get out of bed, as surely as if I had reached for it, my body will assume the mantle. My feet will wind me a new corkscrew path. As soon as I open my eyes, I will be myself once more, and as always, I will be anything but normal.
_____________________________________
We're all acting a little normal over at Trifecta this week. I'm well aware that the second definition is "one that is normal", and it always makes me antsy when I've got more than one definition in my piece, so I'll draw attention to the overall idea here that there IS some kind of a standard to which we adhere, consciously  or not. And I'll point out Merriam Webster's third definition of standard, as well:: "something established by authority, custom, or general consent as a model or example."

Jessie Powell is the Jester Queen. She likes to tell you about her dog, her kids, her fiction, and her blog, but not necessarily in that order.