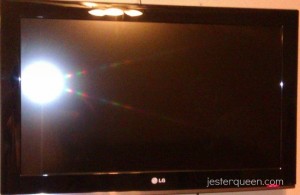 "Brangelina broke up again." Nate adjusted himself on the barstool, but there wasn't a comfortable position.
"When?" Charles, the bartender made a great show of drawing up a beer.
"It'll break Wednesday."
"Right."
Charles moved away without ever meeting his patron's eyes. This was important. It was his role as the front to take the magic knowledge to the bookies. All the bookies knew Charlie had a source. But nobody suspected drunk old Nate in the corner. Which was just exactly how both Charles and Nate wanted things to remain. Nate drank at this bar every night, and he made sure to leave sloppy drunk at least twice a week , or at least to look like it.
Tonight, he sidled home before he would have to act like he'd guzzled a whole keg. As he left, he heard one man muttering, "I'll bet you fifty bucks Brad Pitt and his girlfriend don't make it another week." The words made him smile.
Nate let himself into his apartment. It was a nice place, in a section of town remote from the bar. He changed cabs twice along the way and even walked into the lobby of another building and took off his coat. If anybody found out about him, the job would be over. Charles' fat commissions from the bookies would end, and Nate's half of the commission would dwindle to fifty percent of nothing.
He mixed himself a drink, something he would actually imbibe, unlike the bar swill, which he poured into a zipper pouch that he drained into the toilet. Then, he sat down in front of the television and got out his notes.
He flipped the remote through the Tuesday and Wednesday channels and settled in to listen to next Thursday's news. He often wondered if, knowing these things in advance, he might have the power to change them. So he was careful not to listen to local broadcasts. He focused entirely on national trivia. Sporting titles, celebrity gossip, and new music. He didn't want to be the guy who knew about the plane crash and failed to prevent it. Because he was pretty sure he was helpless against something once it hit his tube.
His theory was that the future became fixed by actions taken in the present, but that the certain future only solidified a few days, a week at the most, before it took place. So that was where he concentrated his viewing. He paid attention to what events the announcers were responding to, and took the juicy ones to Charles to release to the betting rings.
It was a strange job, and somewhat of a lonely one. But Nate had never been a social animal. He preferred the isolation of his own company. Now, he settled in with his martini and remote, looking to see how Brangelina settled their custody dispute. He thought it would be worth several thousand dollars.
______________________________
This was another flash fiction month prompt. The prompt was something about an old TV that gave out celebrity gossip.

Jessie Powell is the Jester Queen. She likes to tell you about her dog, her kids, her fiction, and her blog, but not necessarily in that order.