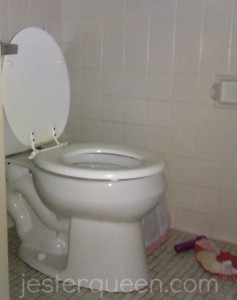 The toilet bubbled brown, its contents unshifted by two days of intermittent plunging.  Scott aimed his snake and cranked the handle. I stood by on flood detail. A rattle and a grunt. "That's it." He kept twisting. Nothing happened. He shook his head and began extruding the snake. I returned the mop to the laundry room. Visions of an epic plumber's bill scrambled through my brain. But then, "Damn it, Sam!"
"You got it!?"
"It stuck on the end of the snake."
Scott carried out the impaled, pink tentacled squishy ball. I threw it away. "Caroline's going to be pissed."
______________________________________
"Are we getting closer" took me back to an indent in flushing, though Scott's big line, "I think I'm getting closer, I can feel the damned thing," was lost in revision. And  the lyric "if love is a labor" sealed the fate, because seriously, snaking the toilet is the ultimate sign of a dedicated marriage.
Sam came late to flushing. He knew HOW to flush early, but he figured out it was cool sometime this spring, and then we went through the thing most people endure between the ages of  one and three years in four accelerated months. (Hope he's done now, knock wood.) Anyway, Caroline's beloved squishy ball was joined by everything from a collection of marbles to the toilet-paper-roll-holder – the plastic one that you hang your roll on, not a cardboard tube – in that time. And while I completely endorse making Sam clean up his own messes, I guarantee he would have found plunging fun and made snaking destructive and even more disgusting than normal.
Anyway, it's also been too long since I've sung along over at Lance's blog, where Leeroy is on about Swing Life Away. so here you go.

Jessie Powell is the Jester Queen. She likes to tell you about her dog, her kids, her fiction, and her blog, but not necessarily in that order.