Madame Julie used a card for a bookmark. "So you're the fellow who won a reading at the poker game." The young man nodded. "Sit." She reached for her tarot deck and smiled.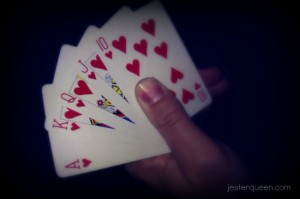 Trifecta wants us to talk about one object with three uses this weekend. Come play with us. Or cross my palm with silver. Whichever.

Jessie Powell is the Jester Queen. She likes to tell you about her dog, her kids, her fiction, and her blog, but not necessarily in that order.