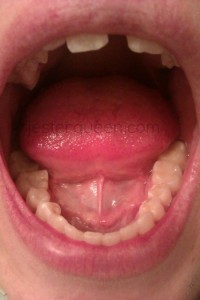 Sherry the hygienist scraped along my gumline. "I did this funhouse for Halloween last year," she said. "They had me dressed up as the little kid in that Freddy Kreuger song." She hummed a few notes of the movie's eerie minor-key version of the old "one, two, buckle my shoe" rhyme.
"That's freaky." I didn't use any consonants, because she had a gloved hand and a dental pick jammed in my mouth, but she understood me anyway. In the background, the dentist's drill whined as he filled another patient's cavity.
"I know. It completely flipped this one woman out. She like ran back to the entrance." Sherry giggled and adjusted the sunglasses protecting me from the bright light shining in my mouth. Then, she suctioned out my extra spit. She had no idea how badly I wanted to run back to the entrance right now, how tightly I was bracing for the machine at her left elbow.
My mouth was temporarily free of instruments, so instead of fleeing, I asked, "Where was it?"
"Out in Wetumpka. You'd love it."
"I bet." Yes, please. Give me Freddy and Jason over dental hygiene.
"Hey, Marcy," she called to another passing hygienist. "Is the network up yet? I want to drop her X-Rays."
"No," Marcy replied. "We're still in blanksville."
Sherry resumed the plaque removal and the distant drill's whine ceased. In the silence, I heard the sound system. "This is Faith Radio 89.1 WLBF Montgomery." I tried not to listen to God's word of the day, but I couldn't miss that it was from the book of James. Too bad the radio hadn't gone down with the computers.
"You have another one this year?" I asked, again without consonants.
"Yeah, and we do a pumpkin ride during the day for the little kids."  She wiggled her pick between two teeth. "Hang on a sec. That one's wanting to bleed." She dabbed my jaw and suctioned it, then resumed the assault on my gums.
We talked like that, horror movies and haunted houses, most of my sentences emerging in a string of vowels, until she was through stabbing me. Then, she started in with the electric toothbrush, and I tried not to moan. She could have poked me with those plaque scrapers all day, and I would have jabbered through the pain. But that toothbrush motor whined just exactly like the drill, and it rattled my head, especially when she bumped my teeth with the handle. I imagined I could smell my own teeth burning, just like I can when I have to get a filling.
Sherry finished at about the same time that the electronics recovered.  I laid back and tried to unclench while I waited. The monitor to my right awoke with pictures of every tooth in my head, labeled with all of my fillings. "You say you take Wellbutrin?" Doctor Hudson's smile appeared above my head. He stuffed a pick in my mouth.
"Uh-huh."
"That explains the thick saliva I'm seeing. Sherry, send her home with a sample of the biotene. Just replace your toothpaste and mouthwash with that." He probed a tooth. "Put a watch on four and five." Sherry wrote on the chart and the dentist took the obstruction out of my mouth to spin around and bring up the actual X-ray images.
I said, "You've been putting watches on four and five for the last three years." Don't talk about that. Watches lead to fillings, and fillings are worse than cleanings. Far, far worse. 
He turned back to my mouth from the machine. "I'm going to tap this one and listen really closely. Remind me who diagnosed it ankylosed." He took the pick out of my mouth so I could talk.
"I don't know. My dentist when I was 13 or 19 or something." I didn't tell him that the dentists all run together in my mind, back to the guy who didn't believe in giving kids novacaine, that when I wasn't sitting in his office, his face joined that parade of nameless men and women who shook my skull until my teeth bled and made my gums hurt for days.
"Huh. Well." He tapped the tooth. It did not hurt. "Yup. Sounds ankylosed to me. Got a really distinct tinny ring. If you don't brush any other tooth in your head, brush that one. Other than that, it all looks good. Are you due for a panoramic?"
Sherry broke in. "We couldn't do that one because of the computers."
"OK, well, make sure to get her on the way out the door. I want to make sure the jaw around that ankylosed tooth isn't growing anything unusual."
"What do you mean unusual?" He didn't have anything in my mouth, so I could ask with perfect clarity.
"It's got a funny shape."
"That's because I've had two teeth pulled around the ankylosed one." I didn't add my favorite refrain. I'd rather have a tooth pulled than filled any day.
"Yeah, but sometimes those backfill funny. I just want to make sure it's normal."
I started to say something, but realized that I wasn't concerned. The cleaning was over. No fillings in my future. I was free to leave the office.
As I walked away, the dentist seemed to be floating along with the Christian rock and the singer who was promising to follow, follow, follow his lord. It didn't matter to me. I couldn't get my final X-Ray and get out the door fast enough. I handed over my co-pay to the sounds of the DJ, who was promising all of us eternal life, but who had nothing to offer on the topic of healthy teeth.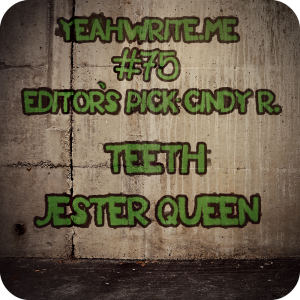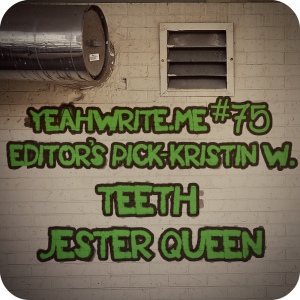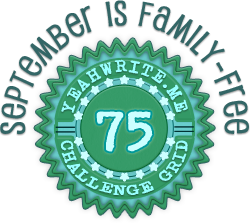 Jessie Powell is the Jester Queen. She likes to tell you about her dog, her kids, her fiction, and her blog, but not necessarily in that order.