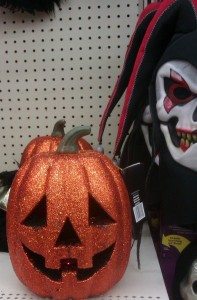 Laura tugged the pumpkin suit over her ample stomach. "Still fits." She smiled at her reflection, but a triple twinge in her abdomen told her bending down had been a bad idea.
"Every pregnant lady does 'pumpkin' for Halloween." Her fiancé watched from the bed.
"Only the vastly pregnant ones, Sherman." She turned to view herself in profile and strapped on the stem-shaped hat. The twinge intensified.
"You were a pumpkin last time."
"No I wasn't." Laura hated Braxton Hicks. She had been dealing with them on and off for four days now, and the last three hours had been worse. But she refused to miss her second and surely final chance to trick or treat in her pumpkin suit.
"I remember, because we'd just gotten engaged, and the ring looked glitzy in comparison to the costume."
"If you recall, I never made it to trick or treat." She gave him a glance above her glasses. "Besides, Shelby is three now. It's like a whole new costume after so long."  And we're still engaged, and the ring is still glitzy.
"You ought to do something unique. Paint a mural on your stomach and wear a bikini."
"No. Not just no, but hell no." But thanks for the vote of confidence. She tossed out a wink to soften the words.
"Are you ready, Mama?" Shelby trooped in, Spiderman cape trailing behind her.
"Tell Grandma it's time to get in the wagon."
Shelby thundered away down the hall shouting, "Grandma, let's go!"
Laura sat on the bed and breathed in deeply, in through the nose and out through the mouth.
"Hey." Sherman crawled up close. "Are you…?"
"Probably." The pain let go, and Laura stood up again. "I will not miss trick or treat. But take my bag out to the car. I'll be ready to go as soon as we get home. I doubt Shelby lasts long this year."
"I hope not," Sherman rubbed his own stomach and frowned. "I sure do hope not."
______________________________________________________________
We're showing off our ample selves at Trifecta this week.
This post is dedicated to the real Laura, who was sixteen and pregnant a lifetime ago at Chatfield College. I don't know where you are now, but you were a wonderful friend, and I have never forgotten you or your adorable pumpkin costume sitting in the computer lab.

Jessie Powell is the Jester Queen. She likes to tell you about her dog, her kids, her fiction, and her blog, but not necessarily in that order.