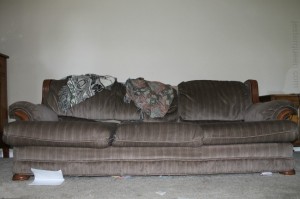 China let herself into her sister's apartment. "Where's Brian? I didn't see his car."
Sally clicked off the TV. "Bar."
"Again?" China tugged her suitcase in and then locked the door. "He's not going out to avoid me because I come so much, is he?"
"No." Sally patted the couch. "It's his letdown at the end of the week."
"Every week?" China perched on the edge of a cushion that swallowed her.
Sally shrugged.
"Doesn't that worry you?" China reached down and unhooked her shoes, then wiggled her toes free and rotated her ankles.
"Nah." Sally leaned back into the sofa, her small body enveloped in its too-soft folds. "He'll get a cab."
"And I'll be happy to run one of you up to get the car in the morning, but I meant… doesn't it bug you to spend every Friday night alone? You could go with him. I can let myself in."
"It's boring. Him and six other drunks talking shop all night."
"It seems like you're ignoring a problem." China picked up the remote control and turned it over in her hands.
"You're single," said Sally. "You don't get it."
"But I've dated…"
"Marriage isn't like dating." Sally's voice rose for a moment, but it quickly softened. "Marriage is as much about being willing to not-see as it is about loving each other."
"But…"
"And I'm not the only one closing my eyes. You see that spot in the wall?" Sally pointed to a jagged hole in the plaster.
"My God, did he…"
"Brian didn't do that, Sis. I did."
"But you're so quiet."
"You know how angry I get. Sometimes, the rage comes up in me like the tide, and my hands have to do something or I'll choke."
"But that's…I don't believe you could have done that." China heaved herself off the couch to study the wounded wall.
From her cocoon in the sofa, Sally chuckled. "Now who's the blind one?" she asked.
____________________________________________________________________
I'm in blind love with Trifecta this week. Come play with a community of outstanding writers if you have time to write 333 words or so. Or, if you have something longer that you'd like to get feedback on, submit it to the new critique program. Take a look and see what you think.

Jessie Powell is the Jester Queen. She likes to tell you about her dog, her kids, her fiction, and her blog, but not necessarily in that order.