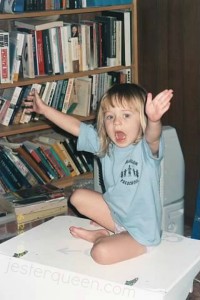 When Caroline was three, she hated swings and couldn't dangle from monkey bars. She knew her colors, but she couldn't recite them reliably. She loved the slide at the local park, but if she didn't walk to the top by exactly the same route every time, she sat down and cried. She adored other children, but if a group of them came too close, she put her hands over her ears and cowered. And 'too close' was typically about a car's length away.
In the bathroom, she never washed her hands without a fight. The preschool director used to accompany her and talk her gently through the process multiple times a day. At one point, they gave up and started letting her use hand sanitizer. That lasted until she started squirting the goo on her hands and licking it off saying, "Tast-es gooood."
At our parent conference, the teacher produced two years of progress reports with evaluations like "can, but won't" (count to ten, sing the alphabet, point to a square) and notes like "some days, I'd swear Caroline can read whole words, other days, she doesn't even seem to recognize the letters".
We invited in a social worker to observe her in the classroom. He said, "I see learning differences there. I'd suggest you take her to an occupational therapist."
We got a name and made an appointment. "I don't take insurance," Miss Julie warned us. "I've got such a small office and they so rarely pay that it isn't worth my while. I don't have the energy to fight through the red tape."
We gave her three hundred dollars up front and brought Caroline in for a test. "You can sit right over there," Julie told us, leading our daughter over to a complicated center.
She lifted Caroline onto a square swing in the middle of the room. Caroline jumped off fast, and Miss Julie seized the swing to keep it from smacking Caroline's head. She nodded as if this meant something. She carried Caroline to a trapeze swing and wrapped her tiny fingers around the bar. When Miss Julie let go, Caroline flopped straight down onto the mat. Miss Julie nodded again. "We can't finish this test," she told us. "I'd like to try something else."
"Of course."
Miss Julie took Caroline over to a table and laid some blocks end to end. "Now you do it." Miss Julie handed Caroline blocks of her own.
Caroline put the blocks in her mouth.
Miss Julie laid some colors out. "Show me pink."
Caroline picked up blue and tried to eat it.
Miss Julie took away all the color chips except that blue. "What color is that?"
"Magenta."
It was the only word Caroline had said except her name since she walked in the door.
Miss Julie looked at us. "We can't finish this test."
I mentally waved goodbye to my three hundred dollars.
"I'd like to try an occupational therapy session instead."
"Sure." Better to get some value for our money.
Miss Julie took Caroline back over to the mat. "I'm going to fold you up like a hot dog in a bun," she said. Caroline lay down. Miss Julie rolled the mat up around her like a cocoon. "Ready to go for a ride?" Before Caroline could answer, Miss Julie yanked the end of the mat free, like a magician jerking the tablecloth out from under a place setting. Caroline flew out and crashed into another mat.
Scott and I jumped up. "Are you OK?"
Caroline stood. She turned around a couple of times, then found Miss Julie. She cocked her head and pointed to the mat. She said, "Again."
"But Caroline can't handle being up in the air like that!" I protested. "I can't even hold her up over my head."
"Usually they hate this," Miss Julie confirmed. "It's designed to help the vestibular system and to assist with proprioception. But most kids are so scared at first that they can't do it more than once in an hour-long session."
Scott said, "I'd be scared of that, and I'm an adult."
"And you didn't even tell her what was coming," I added. "She never does anything for anybody without being told exactly what's going to happen."
Caroline repeated, "Again."
Miss Julie once more rolled Caroline up and once more sent her flying.  This time, when Caroline got up, she oriented towards the table with the color chips. When she got there, she sat. She picked up the blue. "Blue," she said. And then, "Red," and "Pink," and "Green," and "Yellow", all while collecting the right squares.
Scott and I sat down.
"That's highly atypical," said Miss Julie. "I've been doing this ten years, and I've never seen a child do that."
We would get used to hearing those words. Gross motor dyspraxia. Highly atypical. That summed our daughter up.  For weeks, Caroline would struggle with a problem, seeming to gain no ground at all. And then suddenly,  it would be as if the problem had never existed.
She refused to sit on the swing.
She refused to sit on the swing.
She refused to sit on the swing.
And then one day, she stood on the swing.
She couldn't do the rock wall.
She couldn't do the rock wall.
She couldn't do the rock wall.
And then one day, Miss Julie turned around to talk to me and when we both looked over, Caroline was at the top of the rock wall.
"She has to think her way through something first, doesn't she?" Miss Julie asked.
"All the way," I said.
"I've known kids who worked like that before," said Miss Julie, "but not to this extreme."
Caroline howled from the top of the wall. "I'm stuck!"
"She just named her problem!" Julie and I said together. Then Julie hurried over. "Good job using your words!" she praised. And she began the long weeks of teaching Caroline how to climb back down.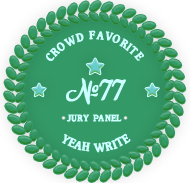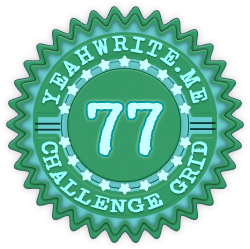 Jessie Powell is the Jester Queen. She likes to tell you about her dog, her kids, her fiction, and her blog, but not necessarily in that order.