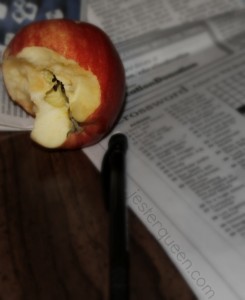 Kallum breezed into the kitchen and grabbed an apple. "Hey, babe." He kissed the top of his wife's head. She had on her bathrobe, and a folded towel sat beside her coffee. "Newspaper attack you on the way to the tub?"
"Hey." Jeanette looked up from her crossword puzzle and pushed her reading glasses up her nose. She didn't answer the question.
"You look distracted."
"I need a seven letter word that means samurai suicide. I'm trying to fit harakiri, but it's too long and doesn't start with 's'."
"Try 'Seppuku'." Kallum crunched into the apple.
"Ugh. Of course." She looked back down and started writing. "Thanks, I guess." When she had finished marking the squares, she set down her pencil, but she didn't move her finger over to another clue. The room filled with uneasy silence.  Jeanette took off her glasses and patted one of Kallum's massaging hands.
"Make you think about Tina?"
Jeanette hiccoughed, then rose and turned into her husband's embrace.  "I can't figure out how she slit both wrists. After the first one, shouldn't her hand have been too bloody and slick to hold the knife?"
Kallum stiffened for a moment, then he stroked Jeanette's hair without answering. When she finished crying, he let her go. "You OK?"
"Yeah."
"Like if I go mow, you'll be all right in here alone a few minutes?" He handed her a tissue from the box on the table.
Jeanette sat back down. "I'll be fine after I finish my coffee."
"Don't forget to shower today." He nodded to the towel.
"I must smell awful."
"It will make you feel better."
After Kallum had gone, Jeanette picked up his apple. She took a bite, then threw it away. Leaving the towel on the table, she removed her robe.
Naked, she took a knife from the chopping block and walked to draw herself a bath.
___________________________________________________________________________
We're all a little uneasy over at Trifecta this week.
And
For the Scriptic.org prompt exchange this week, Supermaren at http://supermaren.com gave me this prompt: Write a story in which one character is telling a lie.
I gave Grace O'Malley at http://www.librivore.comthis prompt: When I was among the oldest, I took that kind of thing for granted. But now that I'm one of the young ones, I find it very hard to come by.

Jessie Powell is the Jester Queen. She likes to tell you about her dog, her kids, her fiction, and her blog, but not necessarily in that order.