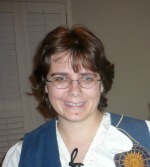 Poor Scott.  He's my sounding board for all my story ideas. He has to be prepared at the drop of a hat to answer questions about presidential elections, random animal behaviors, and everything else that pops into my head. I can Google this shit. But I don't. At least, not until after I ask him.
Because here's the thing about Scott. He is a repository of facts. If he hadn't gone into history, he'd have made a damned fine librarian, because he is also an expert in knowing what questions to ask.
And usually, when I ask him these things, I'm in a spurt of idea generation. He needs background to answer the question, but not nearly as much as I give him. Or sometimes, he needs far more.
Case in point. Sunday afternoon, I came into his office. "I have a great idea for a story!"
"Super!"
"But I need to know something."
"OK, let me see if I can help." He turned from the computer, giving me his full attention.
"How the hell do people slit both wrists? I mean, wouldn't all the blood spurting everywhere after you got the first side right either negate the need to do the second side or else make it impossible?"
" … "
He says that a lot. "… ". Often, the facial ellipses are followed by a question about the story. But Sunday, he e shook his head and recovered. "Do you ever have a 'great idea for a story' that doesn't involve blood in some way?"
"Well…Flori… And that one about the pregnant pumpkin lady."
"Flori is going to get bloody, and we both know it. And you didn't call the pumpkin thing 'a great idea for a story'. You said it was 'a nice little story'."
He has a point. The more grisly the idea, the more I beam when I'm writing it. "So what's your point?"
"I think I'm married to a vampire."
"Does this mean you don't know how people slit…"
"Of course not."
"I guess I'll Google it."
And I did. But Google wasn't much help either.

Jessie Powell is the Jester Queen. She likes to tell you about her dog, her kids, her fiction, and her blog, but not necessarily in that order.