Dear Scott,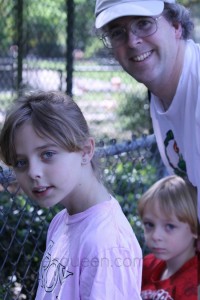 Thirteen years ago, I knew by the end of our first date that I would marry you. That certainty rendered me speechless. At the beginning of the evening,
I did not believe in true love
I did not believe in love at first sight
I did not believe in having children
and I did not believe in trusting people you barely knew.
And four hours later, I not only believed all of those things, I embraced them.
I had my standards set so high that I had never actually dated. At all. Because dating was a great way to get hurt. And you surpassed every single one of those standards in the space of dinner and a movie. You didn't flinch when I swore. You didn't choke me when I couldn't shut up at the movie. You didn't complain that I brought a friend along because I was so intimidated that I didn't know how the fuck to have a date. You pretended it wasn't contrived when she suddenly had to leave midway through. You laughed at Monty Python jokes with me. You opened my door, but you also let me open yours. You didn't complain about going dutch. And then you stole the damned check and paid for dinner behind my back. (And you're a champion of vexing people like that, you know.)
And when you dropped me off at my apartment and stood inside the door and held me, I felt the most profound peace. I could have stood there all night with you.
I could stand there forever with you still.
Eleven years ago today, I married the man of dreams I never knew I had.
I love you.
Love, Jessie

Jessie Powell is the Jester Queen. She likes to tell you about her dog, her kids, her fiction, and her blog, but not necessarily in that order.