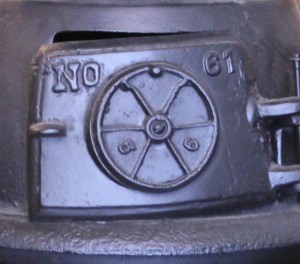 Dianne flipped through the album, rejecting anything that had either both of her parents or her siblings in it. She was hoping for a picture of herself and her father both, but she stopped at one of him alone. He was in a train yard, his face in profile and a hulking diesel engine visible in the background. Dianne slid her fingers under the clear plastic and pulled the photograph out. She held it up to the light, weighing it against her original idea.
On the one hand, she had wanted some image that captured them at a baseball game or sitting together at a fish fry. On the other, her father's name was synonymous with trains. She had chosen railroad board for her canvas not only because it was the right weight of paper for a scratchboard project, but also because it resonated with a memorial to Driscoll Evans.
An engineer who was also the son of an engineer, Dianne's father hadn't stopped at making the rails a career. He was an avid hobbyist, and Dianne and her brothers had spent the heavy weekend dividing his collection as fairly as possible. The lion's share went to Daniel, whose son was old enough to enjoy them. But there were plenty for all five of the siblings to choose between.  Dianne nodded at the picture. It would suit.
She clipped it to her canvas. She had delayed this decision until last, spending the first days of the project in coating the paper with beeswax and Plaster of Paris, then painting it solid. She had purchased etching tips for her scratch pens and a new brush to clear away the black as she sliced it.
Etching was both painstaking and easy to mess up. Capturing an image with negative space presented unique challenges. Dianne had been good at it in college, but she hadn't done much art in the last twenty years. Not many women had achieved company vice president in their forties. But she had compromised on the hobbies to get there.
She didn't really have time now. The twins seemed to alternate which of them slept through the night, so that one was always screaming at three AM. Neither Dianne nor Michael ever had five full hours rest. But she should have been crowding in trips to rail yards with her babies and her Dad right now. Instead, the last three weeks had been filled with phone calls and letters, the funeral, and the dividing of effects, not to mention the news that all of her brothers shared the defect that led to their father's heart attack.
She needed something for herself right now, some way to hold onto him for just a few weeks longer. The picture would serve her need. Dianne picked up an etching pen and sat down at the black canvas. She studied her father's features and began oh so carefully to cut herself apart.
_____________________
Since I've been off taking care of life for over a month, I thought I'd get back to writing by getting back in touch with some of my favorite memes. Appropriately, the editors at Write on Edge have initiated a new regular challenge for 2013. They want us to Write at the Merge. This week, that meeting point comes at the intersection of the word "wish" and The Shins' "Past and Pending"

Jessie Powell is the Jester Queen. She likes to tell you about her dog, her kids, her fiction, and her blog, but not necessarily in that order.