Jungle Jim's marketing plan clearly involved overwhelming people into buying more. Cars from carnival rides held up displays, and florescent lights assaulted our vision. My nine year old niece, Kaylee, bellowed, "Look, Nanny! They have pummelos!" She put two oversized grapefruit into the cart that Scott was pushing.
Mom, who was walking a little ahead with my two kids, said, "Sure, honey," after the fact. Even though she and Kay had been to the store several times since its opening back in September, she looked like a first time visitor. Every bright flash distracted her.
I asked, "What's a pummelo?"
"It's like a grapefruit, only sweeter." Kaylee added one more.
Besides the visual stimuli, the store was loud, its warehouse roof doing nothing to absorb the clamor of post-Christmas shoppers. In less than ten minutes, Sam and Caroline both showed signs of sensory overload. Sam darted up and down aisles, while Caroline looked more like Mom, wide eyed and trying to stare everywhere at once. I had already nudged her forward three times when she abruptly stopped, staring up.
"Rolling Stones!"
"What?"
She grunted and looked at the ceiling. Shit. If aphasia was setting in, we were closer to meltdown than I thought. "Try to focus. Come on."
She remained rooted. "Rolling Stones!" she repeated. This time, she pointed at the ceiling.
And then it clicked. She was listening to the barely audible sound system.
"It's not 'Doom and Gloom'." She twisted her lips.
Scott moved on with Kaylee, Sam, and the cart, but I stayed back with Caroline, while Mom scanned a nearby aisle of red jars looking for pepper sauce. Caroline stomped one foot. "Not 'You Can't Always Get What You Want'… Aha! 'Jumpin' Jack Flash'."  Satisfied, she followed Scott at a trot.
"She can hear that?" Failing to find her sauce, Mom walked forward as well.
"Along with everything else. It's her sensory processing disorder. She hears all sounds at the same volume. The candy wrappers are equally audible. Anyway, if she's settled on the music, she probably won't melt."
Sam pelted out of nowhere with a glass jar in either hand. "Here, Nanny!"
"Is she right?" Mom accepted Sam's offerings, but set them on a shelf. "Not quite sweetie," she told him.
"About the song? Yeah. I caught 'gas, gas, gas' when she said the title." I turned to my son as he reached for another random bottle. "I'll help you find Nanny's pepper sauce. We'll catch up."
"Will he be OK?" Mom asked.
"Yeah. He has a job now."
An hour later, in the checkout line, Caroline shouted "Beatles!" Then, she added, "I can't remember the title."
I strained my ears and caught a few words. "It's 'All the Lonely People'."
"No-o." She rolled her eyes as she drew out the vowel.
Then, at the same time, she and my mother both said, " It's called 'Eleanor Rigby'."
Mom, who still couldn't hear the sound system, added, "Everyone gets that wrong," in a tone that suggested that I ought to have known the difference. Caroline hid a smile behind her hands.
Oh. I made eye contact with Kaylee, and we shrugged, then went on transferring fingerling potatoes and baby corn from the cart to the counter.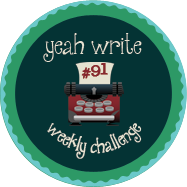 Jessie Powell is the Jester Queen. She likes to tell you about her dog, her kids, her fiction, and her blog, but not necessarily in that order.