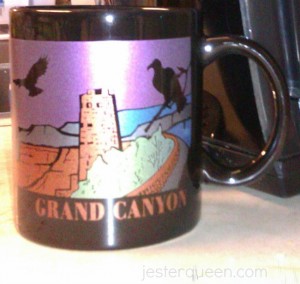 "There are two types of adultery." Jillian poured the coffee and added a generous amount of cream to her own. She brought the cups to the table.
Sarah looked up for the first time to take hers. "You're justifying." She reached for the artificial sweetener.
"No. It's got to do with intentions. Are you dabbling? Or is this the final act of an already broken union?"
"There's no difference." Sarah sipped, but flinched against the heat and spit back into the mug.
Jillian added two spoons of sugar. "Consider me. Blaine was trapped in a toxic marriage when we met. Our relationship motivated him to end it."
"Until he did, you only knew you were screwing around with a married man."  Sarah, allowed the steam to rise to her face.
"It's time that shows the difference."
"How does that help me?" Sarah set down her mug and met her friend's eyes.
Slowly, Jillian answered. "How long have you been seeing Oscar now? A couple of months?"
Sarah nodded, lifted the cup again.
"What have you learned about your marriage? Do you want out? Do you want to try to fix it?"
"I've learned Matt's fucked. When I tell him, I don't even know if he'll want to leave me. I still love him." Sarah didn't drink.
"And do you love Oscar?" Jillian asked.
"So much it hurts. But he knows. Matt? He's got no idea."
"So which one do you want?"
"What if what I really want is myself?" Sarah unfolded her fingers to put the cup back down.
"Then it isn't time yet. You don't know enough to take action."
"Yes, I do."
"It's not fair, the way you're beating yourself up."
"It is fair. It's the first fair thing that's happened since that conference. I'm being honest for the first time in ages."
"So what are you going to do?"
"That's the question, isn't it?" Sarah pushed her coffee away and began to weep.
__________________________________________
This is my link for Trifecta this week, where our intentions are always good.

Jessie Powell is the Jester Queen. She likes to tell you about her dog, her kids, her fiction, and her blog, but not necessarily in that order.