Jimi Hendrix shifted his weight on my couch and jabbed at his gums with a toothpick.
From the kitchen, John Lennon called, "Anybody else want a cuppa?"
Janis Joplin took a drag on a round kazoo and blew smoke rings to the ceiling. "John, you have to come back in here. You need to. You've got to come back in here."
"Ever see Star Wars?" John and his cuppa nearly tripped over the dog in the kitchen doorway. "Whoosh, buzz, bap, crack." He waved an imaginary light saber.
Janis shook her head.
"Died too soon." Jimi threw his toothpick behind the couch.
"All the chow, ping, peeow, boom." Now, John fired an invisible blaster at us and nearly dropped his tea flinching from the gun's recoil. "Gotta hold that one with two hands, I reckon. Do you have a tape of it, Jessie?"
"I thought we were playing cards?" I pointed to the deck.
"Oh, right. Slipped my mind." John sat. "So whose turn is it, now? What's trump?"
"Can't you follow suit?" Janis indicated the three hearts already on the table.
"Oh, I dunno. I better check my hand, then."
Jimi rose. "I'm getting another one of them toothpicks. Want anything?"
"I could use a refill." Janis tossed back a mouthful of amber liquid and handed her highball glass up.
"Gonna cost you." Jimi took a hit off of her kazoo and gave it back before ambling towards the kitchen.
Outside, the garage door rumbled up, then Scott let himself in by the pantry. "Who are you?"
"Overnight guest. Don't worry, I'm sleeping on the couch."
"Jessie, what the hell is going on?"
"Oh, Jesus, this is going to be a bitch to explain."
"Now don't get fluffed up," said Janice as my husband walked in the living room. "We just dropped by to play a little Bridge. Jimi's the only one sleeping over. John and I will be gone by the time you wake up in the morning."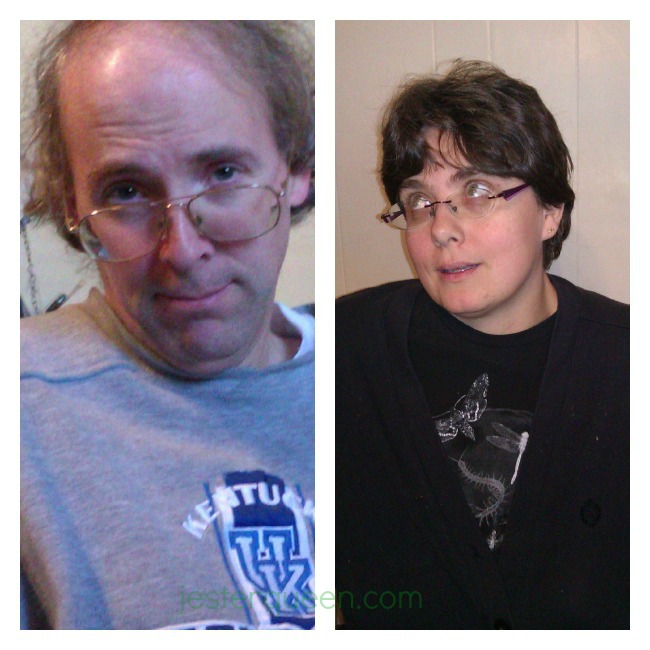 __________________________________________
The Jester Queen welcomes you to her court. My e-mail subscriber count doubled over the weekend. Wow! Thanks so very much for deciding to hang out with me. I do a lot of writing prompts, and Trifecta is one of my favorites. Come play with us if you feel like some fun! This week, the word we need to use in our stories is 'bitch' (3rd definition – jump over to the Trifecta page and take a gander at the rules before you start writing).

Jessie Powell is the Jester Queen. She likes to tell you about her dog, her kids, her fiction, and her blog, but not necessarily in that order.