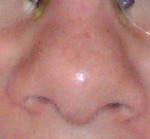 My driving distractions don't usually take my eyes off the road. Sure, I punch endlessly at the radio buttons and pass things over my shoulder to the backseat passengers. And yes, I answer the Bluetooth and use it to call out from time to time. Handsfree is a Godsend. But I don't text or even really dial my phone. I don't whip around to glower at the small people sitting behind me.
But this morning I sneezed, and I came to a sudden crisis point behind the wheel. It wasn't one of those "Ah-ah-achoo" sneezes where there's buildup and prep time. It was a sudden nasal geyser. I barely got my arm up, and when I pulled it away from my face, I did so with snot stringers. Goop smeared up onto my glasses and, because the mucous hadn't just come out my nose, it dripped off my chin. One second, I was driving the kids to school, the next, my face was slime covered.
And the tissues had fallen off the passenger seat into the floor.
"Bless you," said Caroline.
"Ewww," said Sam.
It's not like I was completely unprepared. We all had colds last week, and the kids and I have been coughing up escargot for several days in their aftermath. But the tool I needed sat just beyond my reach at an angle that required me to take my eyes off the road and lunge diagonally forward.
Only twenty years of conditioning doesn't break easily. The car was still moving, even though my vision was blurred, and I could feel a warm spot growing at the top of my shirt. I tried swiping my face with the other arm, but another sneeze erupted as I did, and now I had two coated arms and a snot-beard. I needed the damned tissues.
But I couldn't just lean over and get them.
The year I learned to drive, a girl my age crashed. She was driving home from work after dark, and she made a stupid decision. At forty miles an hour, they think she leaned over into the floor of the passenger side to get something. Possibly a CD for the changer. Whatever the object, she did it coming into a curve, and she lost control of the car and plowed into a telephone pole. It was stupid. It was small. And she died.
It's left me with a lifelong paranoia about keeping my eyes where they need to go.
So instead of ducking over to grab the tissue box, I glanced in the rearview mirror, and, after deciding there was nothing behind me, I hit the brakes. Then I leaned over into the floor.
Caroline said, "What are you doing."
"Never mind. Play your Angry Birds."
While I was reaching down, I saw a hoodie I'd stripped off on a warm afternoon. I grabbed it too.  I wiped off my chin, cheeks, nose, and neck. That took five tissues. Then I took off my glasses and whipped off my shirt.
"Mom, what are you doing?"  That was Sam.
"Changing."
"Wow. You really got boogers everywhere."
I wiggled into the hoodie and threw my turtleneck back where the tissues had been. Then, because they were so badly affected, I took a couple more tissues and wiped my glasses down, too.
When I put them back on, I once more checked the rearview and saw a line of three cars stuck behind me. They were waiting politely, because down here, it's considered rude to lay on the horn in the event of an idiot driver. It is far better to wait while the person in front of you does who-the-hell-knows-what than to beep and let them know you need to pass.
God knows, they'd all just seen me change my shirt.
I waved a thank you over my shoulder and took my foot off the brake.
Sam said, "Yuck."
I said, "Caroline, can you reach the hand sanitizer back there?"
"I think so, but it's in the floor under Sam."
"Just lean forward and get it for me, honey. Mommy needs a bath, but that will have to do."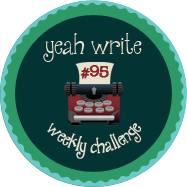 Jessie Powell is the Jester Queen. She likes to tell you about her dog, her kids, her fiction, and her blog, but not necessarily in that order.