"Jessie, where the fuck are we?"
"I've been lost since the Presidio." Broken glass littered the sidewalk, and Scott had just stepped on a spent shotgun shell, its ruffled blast end an unmistakable sign of what had happened to the mason jars around our feet.
Scott's friend Kelly, who had joined us willingly enough after lunch, said "The Presidio. That was awhile ago."
"How long have we been walking?"
Scott checked his watch. "Four, five hours, give or take."
"I'm starved."
Kelly said, "That's pretty low on the old priority list right now."
He had a point. What had started as a ramble along the waterfront to reach the Golden Gate bridge had delivered us to a neighborhood of thinly spread houses. A few blocks ago, this had meant large yards and fancy fences. Now, it meant broken windows and detritus in the road.
"I should have climbed up on those rocks to get to the bridge."
Scott studied the hotel map, tracing our route with a finger. His finger fell off the page.  I had assumed he was mentally tracking our progress all along. Turned out, he and Kelly were too busy talking Native American relics and the plight of German Americans in World War I. And since we had walked off the map, he was as confused as I was.
Although it was a sunny day, we had been in shade for some time as the sky changed from blue, to orange, to twilight gray.
Kelly said, "At least there's no fog."
Yesterday, I had walked alone through Chinatown while my new husband and his friends genuflected at the altar of research. Today, my Fisherman's Wharf jacket with "San Francisco" emblazoned above the breast branded us tourists more completely than even our hotel map and bewildered huddle. It had been sixty five degrees when we left the hotel and the annual historians' convention.  It felt much colder now.
"Hey, there goes a bus!"  Kelly sprinted after it, Scott and I in his wake.
Even Kelly's lanky legs and athletic build weren't fast enough to catch it.  We waited ten minutes before trying another stop. Four hikes and three fast trots later, we finally caught a ride. The driver jotted notes so we could remember what transfers and streetcars would get us back to Union Square. A homeless guy sitting in back added two stops in the middle for routes he assured us the driver had forgotten. Kelly tipped them both handsomely.
When we finally pulled up to the hotel, from exactly the opposite direction as the one I had expected, the city was dark. A history subgroup was hosting a wine and cheese reception, so we changed out our tourist togs for slightly nicer attire. Soon, we were holding appetizers like the afternoon had never happened.
Kelly asked me, "What are you going to do with yourself while we're in sessions tomorrow?"
"Don't know. But I still haven't walked on that bridge. I'll probably start there."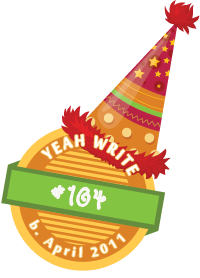 My friend Alex over at
No Defective Ducks
 wrote a post about how technology helps her manage the
transit anxiety
caused by Seattle's public transportation system. Hers is a story of the ways the world is moving forward. It demonstrates that the nation my children will someday inhabit may be a little better geared to treat autism as one of many degrees of normal.  But her description of public buses, routes, and timings reminded me of something from my own life. I've already told you I have no sense of direction. But back when we were newlyweds, in the dark ages before Smartphones, Scott didn't really understand how 'lost' I could manage. (This was even after the fiasco at Niagara Falls, which I shall recount at some other time.)

Jessie Powell is the Jester Queen. She likes to tell you about her dog, her kids, her fiction, and her blog, but not necessarily in that order.