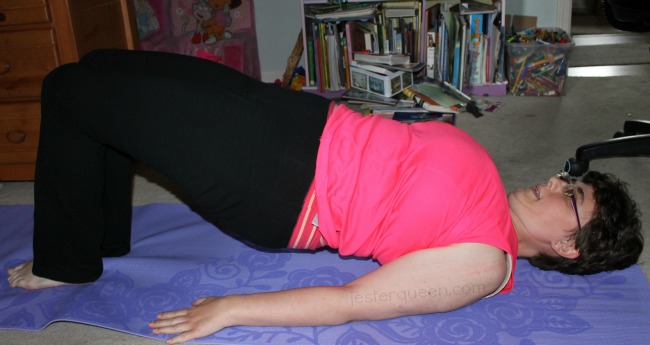 "The mirrors are a distraction. Focus on what you feel." MJ lay back on her mat.
I did not. "I feel a lot of things. I can't tell which is right until I see how I look."
My Yoga teacher tucked her ass up and hoisted her back towards the ceiling. "Try for that."
"How will I know I look like what you look like if I can't see what I look like?"
She sat up and pushed me into a reclining pose. "Concentrate on your Mula Bandha. Tilt your pelvis to make that flat back. Then lock it into your Uddiyana Bandha. Feel how hard your stomach is?"
"So I'm doing it right now?"
"Well, no." She reached under and pushed my sagging butt a little higher. "You need to work that connection down through your spine. You're strengthening a weak part of your body. You should feel the tension in the backs of your legs. Really squeeze."
"If I squeeze much more, my Inna gada davida bandha is going to merge with Oh my god I hurta banda and mash me into a pulp. This is killing my neck."
"Keep your chin tucked to your chest. Don't put the tension into your shoulders. There you go!"
"I'm shaking so hard it's throwing me off balance." I looked in the forbidden mirror and corrected my posture. The quivering increased.
"Use those inner quakes. Let them rattle you. Pull into your tree."
"My tree? Trees are green. My face is the color of a plum right now."
"You're almost there. We'll work on it some more next week." She released the class with instructions to tilt our pelvises at random intervals. She caught my eye as I walked past. "Inna gada davida bandha?"
I walked out the door into the  bright  Southern morning. "Don't you know that I love you?"
I couldn't tell, but I thought I heard her laughing as I stepped down to the parking lot.
________________________
The last time I wrote about Yoga, I was merrily faceplanting my Crow. (Update on that: Largely unchanged.) This was about two years ago. I wound up not doing Yoga for a rather long stretch, as I'd had enough of the YMCA's noise and the resistance to the word "Namaste" or even, in some cases, a replacement of "Namaste" with "Amen". Fuck. I started back recently with a beginner class at a private studio, and my form sucks. (Not that it ever achieved great things before.) My arms forget to stick to my sides, my ass sways out and back, and I can't lock my body for shit. It makes for great blog fodder. Lucky me that Trifecta wanted to know all about my color this week.

Jessie Powell is the Jester Queen. She likes to tell you about her dog, her kids, her fiction, and her blog, but not necessarily in that order.