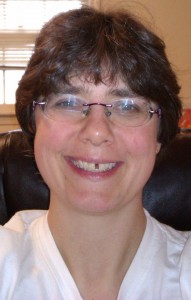 I'm flying really high right now. If you know me on Facebook or Twitter, you know why. But for those of you who have NOT been bombarded by my bragging yet, a short story of mine was published, not just 
published, 
but 
audiocast. 
When the amazing producers at 
Cast of Wonders
accepted my piece, I had no idea how extraordinary they truly were. The reader, Tina Connolly, has brought Loma'ai to life in a way I never even dreamed possible. My 
GOD
, Tina's novel 
Ironskin 
has been nominated for a Nebula. A Nebula! And she's reading my story for Cast of Wonders. I'm speechless. (Only, I'm not. I almost always have words. But I'm tripping all over my tongue.)
Please, take half an hour and listen to my story, as read by someone with an extraordinary voice.
And Cast of Wonders could use some Facebook fans and Twitter followers. You could do far worse than to like their pages!!

Jessie Powell is the Jester Queen. She likes to tell you about her dog, her kids, her fiction, and her blog, but not necessarily in that order.