"Have fun!" I waved Scott out the back door, false smile plastered on my face.
Dear God, I thought he'd never leave
.
And yet, he's ten minutes early.
"Kids, good news! You're having a play date with Kristopher."
"When?"
"Now." Linda's van honked from my driveway. I herded my children out front. "Hurry up."
They couldn't see my hands shaking as I shooed Sam to sit beside Kristopher. They couldn't feel my heart racing as I kissed them goodbye. They had no idea what I was about to do. "Don't forget Sam's six o'clock meds."
Linda held up the pill bottle. She knew. Moms can't sneak around behind their husbands' backs without conspirators.
"I sat in that office typing all day. I barely spoke to him. He knows I'm up to something, but can't guess what."
"You worry too much."
"I think … I guess I need to see it with my own eyes."
"I understand that."  Linda backed out and I went inside.
I checked the clock and climbed in the shower. Can't be late. I really wish Scott had left on time. Early throws me into a different kind of limbo. I dressed to blend in, blue earrings, black slacks, and a lightweight jacket-top.  Ticket? I ran it out to the car. Camera? Phone? Book? All collected. And I was still half an hour early.
I'm sorry, honey. I'm sorry about all the mess, and yes, lies. By now, you know I did not go to Linda's with the kids but, instead followed you last night.
___
I had timed it so that if Scott stuck to the routine I expected, I would leave the house after him but reach the theater ahead of him. Well ahead. In fact, I arrived so early, I had to wait for the doors to open. And I beat him. Good.
Inside, I chose my seat and waited. The next part was the trickiest. I needed to hide. I was a voyeur here, and I didn't want Scott to see me. Not yet. When he entered, he stopped once, at the opposite end of my row. But he walked past without turning his head. Danger averted.
I followed him with my eyes and zoomed in my camera. I needed to catch him, or this whole adventure would be pointless. I only needed one good shot. I wondered how rude it would be to read my book while I waited. Finally, the moment came.
A woman in a black and white dress spoke his name and took his hand. I had the big lens on the camera, and I caught him receiving the Teacher of the Year award at Troy's graduation.
The recessional played, and you walked down my aisle, looking everywhere but forward. Then you glanced up and saw me, and your eyes widened. You reached out and touched my arm. That was all. The parade was moving too fast for more. But that look, that touch, I'll carry those forever.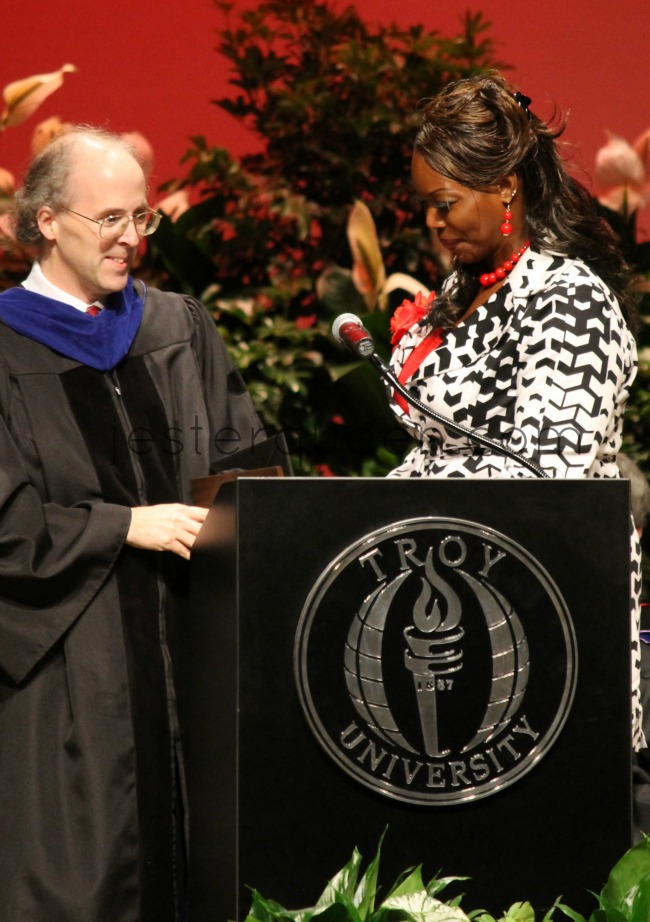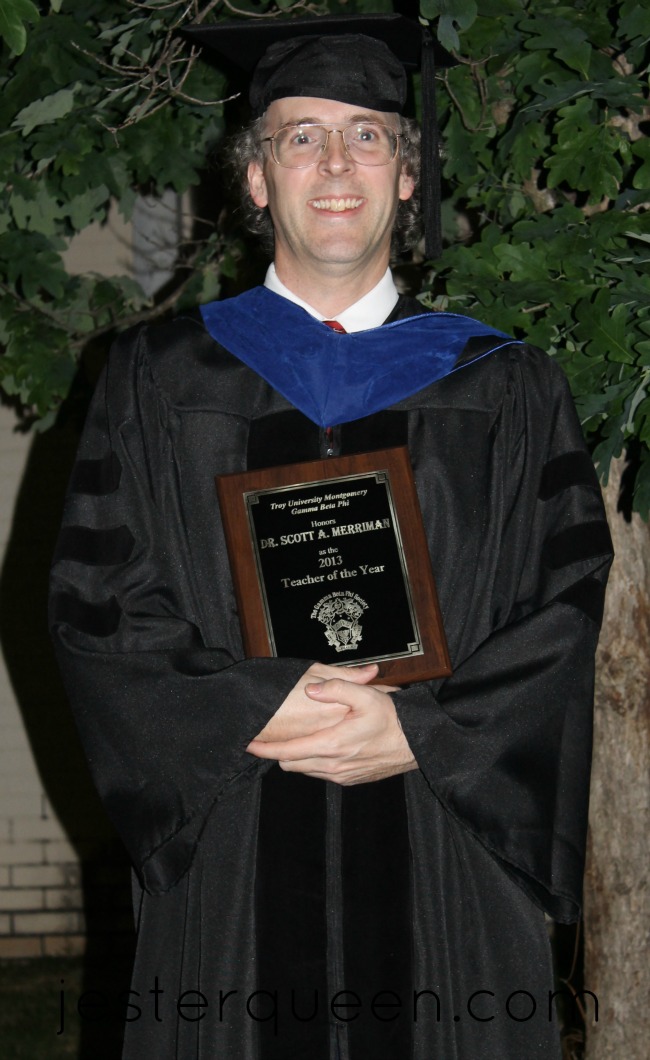 Jessie Powell is the Jester Queen. She likes to tell you about her dog, her kids, her fiction, and her blog, but not necessarily in that order.