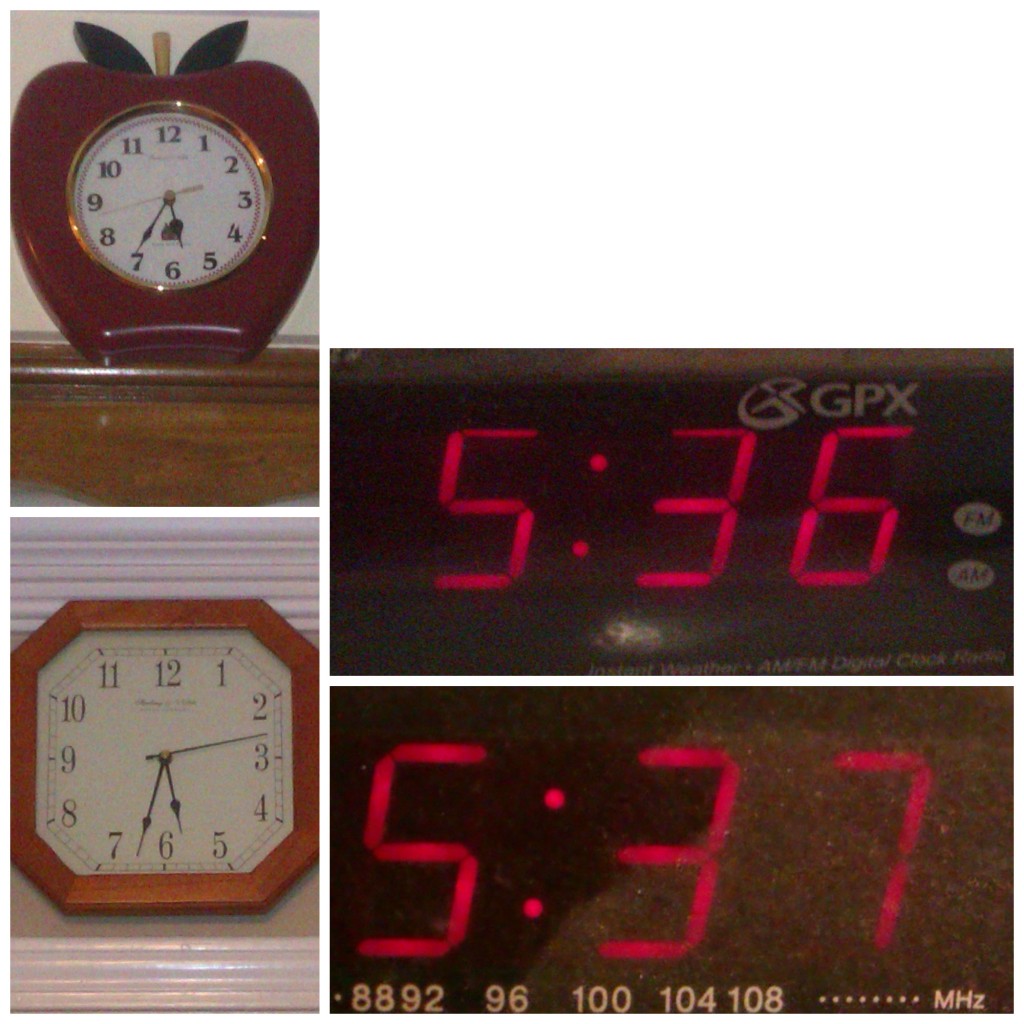 "What time did the ghost appear?" The spectrologist adjusted his laptop.
"Midnight."  Dana, the large woman sitting beside him on the couch, edged closer, looking over her shoulder.
"But…" The smaller woman, Beth, fidgeted in her chair. "That means it wasn't… wasn't midnight. If it's twelve o'clock in here, it's already twelve oh five in the bedroom and nearly …"
"But midnight exactly in this room." Again, Dana edged closer.
The sisters contradicted each other this way throughout the interview. What time did they eat dinner?  (Five, five oh five, quarter past five.) Go to bed? (Nine, nine oh five, nine fifteen). There were clocks scattered around the house, none of them right, all set a few minutes apart. The spectrologist had noticed it on the initial walkthrough and resisted the temptation to correct every one of them.  Now, his body tilted towards the sinkhole Dana's rump created in the cushions. "Let's say it arrived around midnight and leave it at that. And," here was the heart of the matter, the important thing, "What did it look like?"
"Like anybody. It was solid as you are sitting there. Liked to have scared poor Beth to death!"
"I… I turned on the light, and it didn't go away, and I screamed so loud."
"Not transparent?"
"No," said Dana. "It looked a little … a little like this." She began to laugh.
"I don't see …" The spectrologist half rose, then dropped his notebook and pencil. He screamed, but only a short burst, as Dana's head flipped back, revealing the stump of a neck oozing with gore. He tumbled into the opening sofa gulf, his eyes wide and sightless long before he vanished into the ether.
Dana giggled some more as she readjusted her skull.
Beth looked away. "I… I don't like this game."
"But you'll play." Dana told her. "Because I told you to."
The grandfather clock boomed twelve noon, and throughout the rest of the house, the other clocks ticked on.
____________________________________
Things appear to be just about normal over at Trifecta this week, and I'm entering a story. Watch this space tomorrow for the story I nearly entered, but wound up taking in a different direction.

Jessie Powell is the Jester Queen. She likes to tell you about her dog, her kids, her fiction, and her blog, but not necessarily in that order.