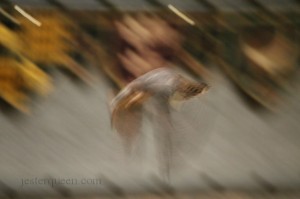 I struggle with scenes where protagonists flirt or flush with desire. But I want to capture those moments in my writing. This one story has been haunting me since I was ten years old. Ten fucking years old. When I wrote it then, it had a lot of breast kissing and ended in "the rest, I will leave to your imagination".  I'm still mortified by that phrase. I was obsessed with sex but had not the first
clue
about what took place under the covers.
It was five years after that failure before the idea crept back into my mind. This time, it stayed. I never tried to write it again, though.  Then, last Friday, a sentence lodged in my head. My writing often starts with a word-image that requires telling. And that one had the potential to be an entry point to my long-restrained story. So I typed it for the whole trip down to Florida. Bare bones outline: Fighting couple has sex instead. The end.
No, really, that's the plot. And here's the problem. I know what happens under the covers now, but other parts of the story don't work. The fighting couple doesn't spend enough time in the shift between argument and sex, so the whole thing comes off wrong. I consulted my in-house expert.
"Scott, do these two still jump in bed together too soon?"
He studied my laptop. " "Something's missing. I think the man needs to rationalize it more."  Click. Exactly what I needed to hear. I had been so concerned with capturing actions and dialogue that I hadn't even considered thoughts.
I was still mulling this over while we tried to write next week's grocery list. It seemed Scott was, too.  "It needs more … look." He took away my list. "She does this, right?" He put my hand on his cheek.
"Yeah."
"Doesn't that send a chill down his spine or something?"
"I hate the stereotypes."
"OK, his face, then. What if it sends a chill across his face?"
"Ohhhhh."
"You need more of his physical reactions."
We walked through several more gestures discussing actions and reactions. And we, unlike my couple, didn't have to cover any extra ground to get to desire.
Then, Scott said, "I think we're still technically parents." We broke off our conversation and resumed the list before the living room and Wii lost their appeal for our kids.
A few minutes later, he asked, "What turns him on about her?"
"Her hair. It always smells like flowers."
"OK, so he has to smell her hair. That could set off a moment where…" and by now he was behind me, reaching around to pull me close. I leaned into him automatically, then jumped away just as fast.
"Damn." We glowered at the living room together.
"OK. Right. Rationalization; physical reactions; turn-ons. I'll work on that and see what you think later. After the kids are in bed."
"Definitely. After they're in bed."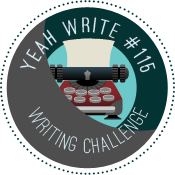 Jessie Powell is the Jester Queen. She likes to tell you about her dog, her kids, her fiction, and her blog, but not necessarily in that order.