"My ass cheeks are going in opposite directions." Scott glowered up from the couch. It had recently snapped in the third place in less than two months.
"Mm-hmm." I sat across the room. In a chair.
"We have to replace it, don't we?"
"Mm-hmm."
It came to me used and free in 1998 when I went to grad school. After Scott and I and four friends nearly killed ourselves getting it into our first shared apartment, Scott said, "It's coming out kindling."
"Baby, I'll buy the axe."
But it didn't. Instead, when we rented our first house, we gave all our friends rope burn dropping the couch over the balcony. And it didn't even crack.
When we bought our first house, local movers hefted the corner cabinet more easily than the sofa, thanks to affixed cushions and a shape that required it to be turned upside down at a three-quarter angle to get it through any door.
Coming down south, Andre the Giant picked up the corner cabinet alone and carried it down a set of slick deck stairs on his back rather than be part of the team of three jamming the couch out the front door.
In Montgomery, it endured two dogs' toenails, two kids' stuffing obsessions, and two parents' indifference to the insults delivered upon it. But this March something crunched when I sat. Sam delivered a second crack in April, and Chewie got in the third in early May.
A month and a half later, we watched the couch's insides fly out as a final set of movers maneuvered it out our front door. Granted that they dealt with heavy furniture all day, it still seemed easier for them to heave it than anybody before. We took it as a cosmic sign that the thing was ready to go. Then, we reclined the ends of our new one and started planning how to protect it from our dog and children. I'll let you know how that works out.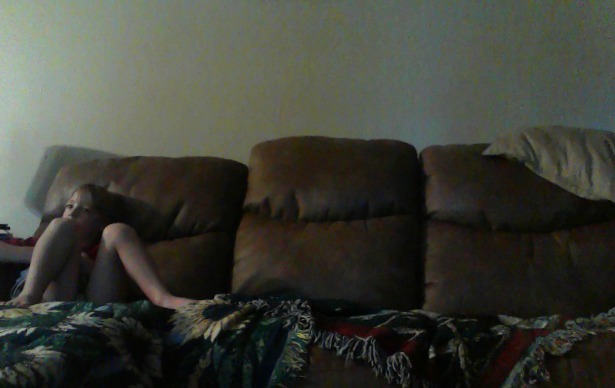 If you want to come fly with us at Trifecta, you really should give it a whirl. It's a great community of writers. Take a look at the wide variety of genres and abilities we display, and you'll see what I mean. Odds are, whatever your focus, whatever level blogger or writer you feel yourself to be, there's somebody else to connect with. (And it's not like you have to join or anything – it's a link-up.)  Don't feel intimidated by the number of people submitting, what your [typo – leaving for the sake of irony] perceive as people who are writing above you, or the creative prompts.(I count the 333 word limit as a creative prompt.) (Also, believe me. We aren't.)
The best place to jump in is probably the weekend challenge, which is often only 33 words long. Promise, you'll get addicted. After all, I did.

Jessie Powell is the Jester Queen. She likes to tell you about her dog, her kids, her fiction, and her blog, but not necessarily in that order.