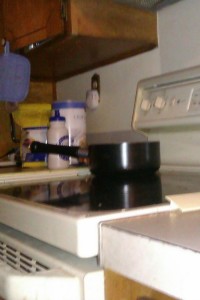 I wish to lodge several complaints, and I hope you can be of help to me To begin with, I hate the way you fancify recipes. Perhaps, on a TV show, there is something inherently more satisfying about the texture of meatballs made with Panko, rather than average breadcrumbs, but frankly, I think not. Similarly, I believe sea salt, cremini mushrooms, lacinato kale, Parmigiano-Reggiano cheese, and freshly ground anything are all included to make foods sound less plebian, more worthy of Pinterest or Emeril. There is nothing wrong with my iodized salt, ordinary mushrooms, normal kale, low-fat Parmesan Cheese, and dried spices.
Next, I think some of you use a food chart to determine what to write up. "Let's see. I'll throw one dart at "fruits and vegetables", and another at "preparation method" and…. yes! Avocado Popsicles!"
Additionally, be warned that you will brand me with a brand name. You seem to be under the impression that simply because you include a company's vitals in a recipe, I will feel compelled to cook it. How much are you getting paid for this advertising?
Finally (Cooking Light, I'm looking especially hard at you), if a recipe is intended to be healthy, why don't you cut calories wherever possible? Why does your light version include 2% milk, which has tons of fat and more calories in comparison to skim, when the skim makes no discernible difference to the ultimate product's taste? Or sour cream. Why does your "light" recipe include regular sour cream, which has sixty calories and 3 grams of fat in two tablespoons when fat free sour cream has 30 calories and, well no fat? Or better yet why not tell folks to use fat free Greek Yogurt, which has still fewer calories and a better texture.
All in all, your confusing practices baffle me, and I believe it is time to found my own line based on common sense and realistic dietary planning.
Sincerely,
A peeved diner


Jessie Powell is the Jester Queen. She likes to tell you about her dog, her kids, her fiction, and her blog, but not necessarily in that order.