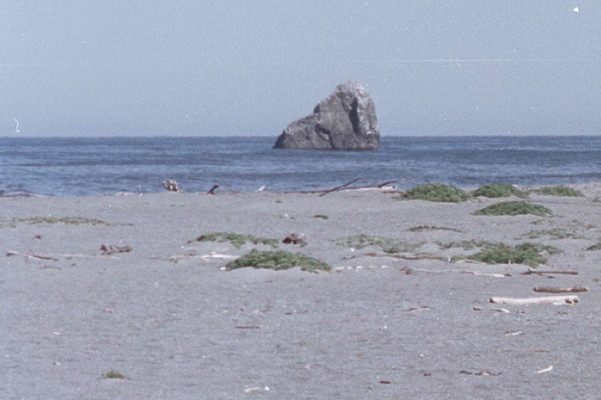 They spoke in their own languages, Matt's English, Consuela's Spanish, as they wound down the Pacific coast.
"I'm not going on some crazy-ass …"
"No estoy loco."
"I didn't say you were crazy. I said this… whatever we're doing… it's got to be nuts."
"No loco."
"Then why won't you tell me what it is?"  He wished he spoke better Spanish or she better English. Throughout her son's trial, they had communicated with a translator, a woman who whispered, "It's not your fault. You did your best," over Consuela's sobs at the end.
But when, a week later, Consuela appeared at his office begging, "Vienes. Vienes, ahora, por favor!" Matt couldn't fail to understand her. Though it meant cancelling a dozen appointments, he went. He only regretted his decision as she began to navigate the twisting narrows of highway 101. "Why won't you tell me?" he repeated.
"Porque no le va a gustar."
Matt had heard Consuela mutter, "No me gusta." often enough during the trial.
"What won't I like?"
Consuela pulled into a scenic overlook, currently deserted. She got out and hopped over the guard rail.
"Come back here!"
"No, tu. Vienes ver." She flicked two fingers from her eyes over the cliff, indicating she wanted him to see something. "Confia en mi." Trust me. How often he had said this to her in court? And how wrong had he been?
"OK," he said. "I trust you," though he did not. And he followed.
She lay on her stomach and scooted to the edge of the cliff. "Ya está. ¿Ven?
He finally lay down beside her and inched forward, waiting every second, for the shove that would catapult him into the rocks. At the lip, he squinted down.
"Ya está," she repeated.
"There's a metal box," he said.
"Si."
"What do you want…?"
In halting English, she said, "My Ramón is no murderer. That box proves it. You make the police get it, OK? Then, maybe he won't get the needle."


Jessie Powell is the Jester Queen. She likes to tell you about her dog, her kids, her fiction, and her blog, but not necessarily in that order.