This weekend, Trifecta has asked us to provide the 33 words that follow this illustration: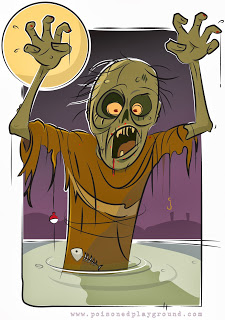 Typically, I don't include other people's pictures on my blog. It gives me the copyright heebie-jeebies. But Trifecta swears it's OK as long as we give a link back to www.poisonedplayground.com and credit Poisoned Playground. Also, the whole entry makes no sense whatsoever without the context of the image. I have also taken wild liberties with the prompt. They said "Give us the 33 words that follow this illustration. What happens next?" They did not say that the following 33 words all had to be in the story's TEXT.
____________________________________
"The mummy…"
"Zombie!"
"…rose and, Jared…"
"And Sophie!"
"… I'm getting there. Jared and Sophie…"
"Saw their monster!"
"For someone who can't read, you know a lot of words in a brand new book."


Jessie Powell is the Jester Queen. She likes to tell you about her dog, her kids, her fiction, and her blog, but not necessarily in that order.